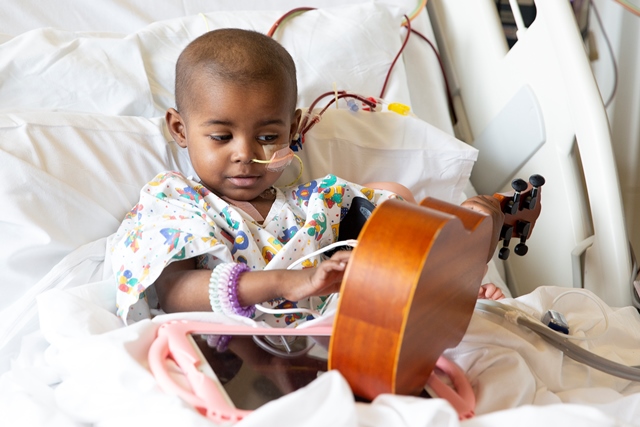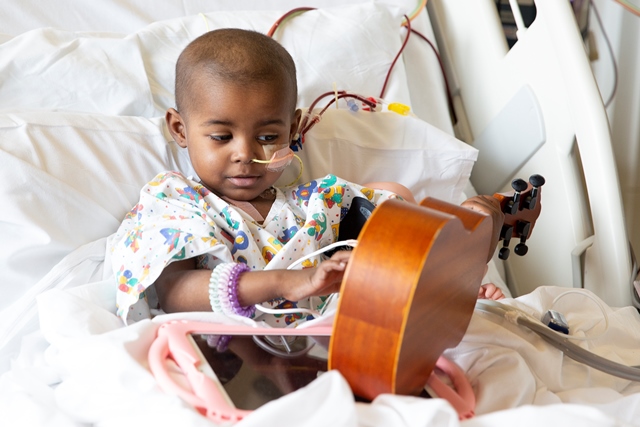 Music as Medicine, the latest project between Live Music Now and Alder Hey Children's Hospital, has recently come to an end. Over the past year-and-a-half, Live Music Now musicians worked with 55 long-term patients to improve their quality of life and musical skills during their stay in hospital.
The programme comprised six musicians, three of which, experienced in working in creative health, mentored three who were new to paediatric healthcare. All six were overseen, supported and mentored by Georgina Aasgaard, Live Music Now alumna and the hospital's Musician in Residence.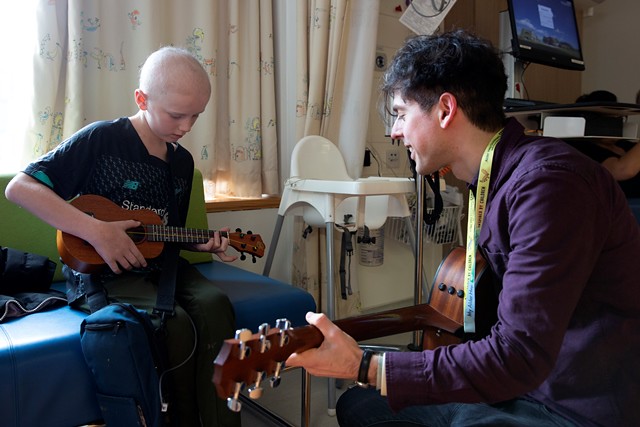 During the music sessions, patients explored and played different instruments including the ukulele, mini harp, keyboard and percussion as learnt to use digital music apps.  Many patients also worked with the musicians to compose and perform their own songs, inspired by their interests and personal experience.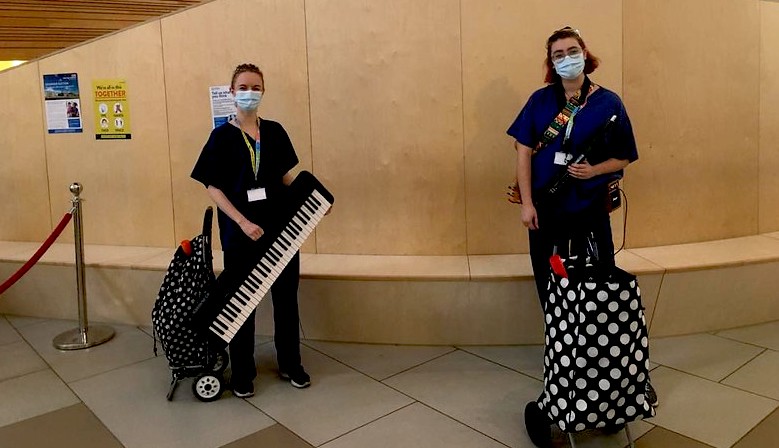 When the Pandemic hit in March 2020 the programme was put on hold. However, over the summer, the Hospital produced a rigorous set of protocols enabling the musicians to return to face to face delivery in October 2020 – one of the only hospital music programmes in the UK to continue during the Pandemic. The hospital design partly enabled this to happen as 75% of patients are in single rooms which are spacious enough to allow for social distancing.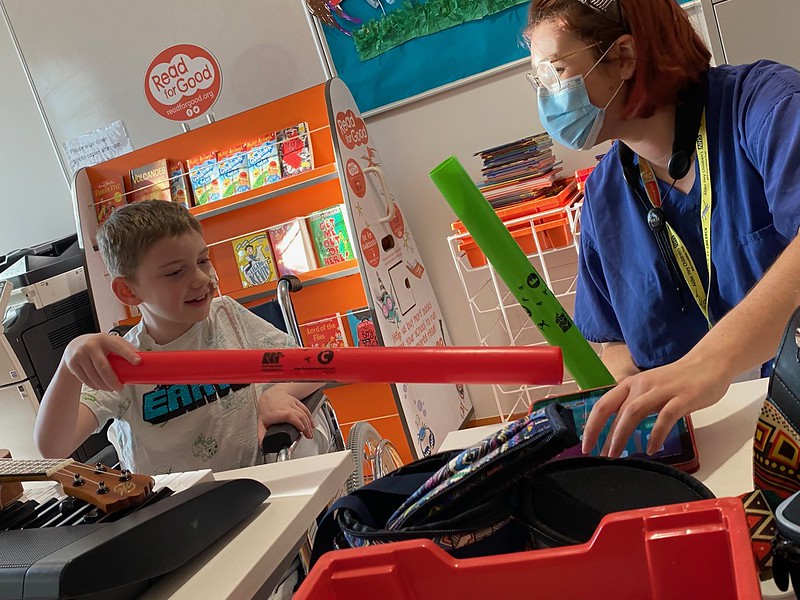 The programme was evaluated by Dr. Rosalind Hawley in August 2021, whose report can be downloaded and read here.
"Music helps me forget about my treatment for a while." – Harry, aged 10
"It made me the happiest I've been in hospital." – Elsa, aged 9.
Feedback from patients about the programme demonstrates the valuable role that music can play in supporting patients in health-care settings, from the development of musical skills and experiencing a new musical genre or instrument to improving confidence, mood and significantly improving the experience of being in a hospital.
The musicians involved also reported an increase in both skills and confidence to support their role as a musician working in a health care setting.
"Finding new ways to put the patient-led (or person-led) approach into practice was incredibly beneficial and has had a huge impact on all my other work" – Hedi Pinkerfeld, LMN Musician
Read a case study by Eleanor Mills, one of the participating musicians, here.
To celebrate the completion of the project, Live Music Now musicians and Alder Hey patients made a video of Randy Newman's "You've Got A Friend In Me".
'Music as Medicine' – You've Got a Friend in Me! from Live Music Now on Vimeo.
Music as Medicine is the latest programme in an ongoing partnership between Live Music Now and Alder Hey, funded by Youth Music. Live Music Now and Alder Hey are working on securing the funding for the next round of work to continue the relationship.