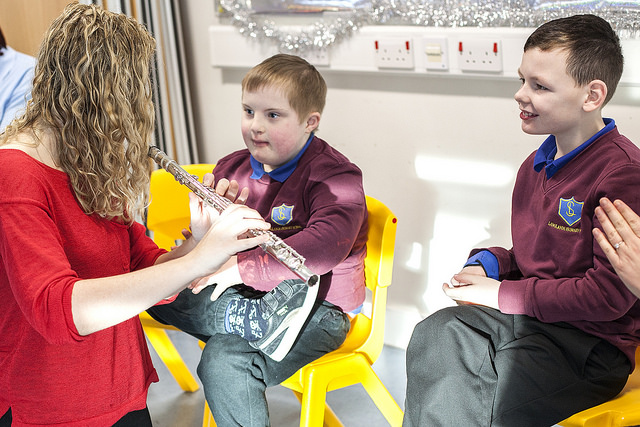 Are you a musician based in Scotland? Want to play gigs in unusual settings, and get paid?
It's approaching audition time once again at Live Music Now Scotland. We're looking to find musicians and bands to play paid gigs in unusual settings. Do you think you might fit the bill?
About us:
Our aim is to bring great live music to people in the community who can't easily access music. Which means putting on concerts and workshops in care homes, schools, prisons, museums, hospitals, art galleries and farflung spots.
Live Music Now was founded in 1977 by violinist Yehudi Menuhin and is the largest music outreach organisation in the UK. We aim to support talented musicians at the start of their professional careers with paid performance opportunities and ongoing training. Live Music Now Scotland currently works with over 100 specially auditioned and trained musicians who deliver around 600 performances and workshops each year across the country.
About you:
All rock, pop, indie, jazz, folk and classical styles are welcome to audition, although you must be able to perform without a PA. Musicians should be in the early stages of their professional careers.
Ideally, the musicians we hope to add to the Live Music Now Scotland roster will not only be musically talented, but also confident communicators with people of all backgrounds and ages. They should be capable of reporting back on concerts, and willing to share their experiences through social media and blogging. Last but not least – we're looking for someone who is genuinely excited and enthused by the possibilities and potential offered through our organisation.
How to apply:
If you think you'd like to get involved, the closing date for applications is Friday 2nd October, and the auditions will take place in Glasgow, on Thursday 12th November. (Please keep Wednesday 11th November free too, as an additional day of auditions may be added.)
For more information, visit livemusicnow.org.uk/auditions, email [email protected] or telephone 02920 554 298. Those accepted onto the scheme will be expected to attend an induction on Tuesday 19th Jan 2016 at 1pm.
Spread the word:
Download our poster and let the world know!
Best of luck to all applicants!
For further updates on auditions and news, please check the Live Music Now Scotland Facebook page for details.
Photo credit: Rachel Keenan