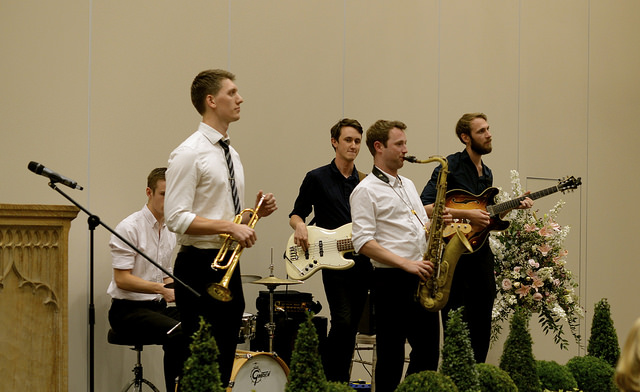 "Heartfelt congratulations to all for a splendid evening!"
Live Music Now North East celebrated the centenary of founder Yehudi Menuhin on Friday 14th October with a sparkling evening of live music. Over 130 guests gathered at the elegant Garden Rooms at Tennants in Leyburn, North Yorkshire to hear two very different LMN ensembles demonstrate their talents.
Jazz quintet Steppin' Out performed a lively set of well known jazz standards and music from New Orleans. They also demonstrated some of the audience participation techniques they use when performing in venues such as special schools and care homes. Some brave volunteers had the opportunity to try out their 'magic sunglasses' which allowed them to conduct the band!
Merdiem Duo then gave a beautiful performance on flute and harp. Their diverse programme included Bach's Sonata in G Minor and John Rutter's Suite Antique, ending with an upbeat Piazolla tango. Both ensembles talked passionately about their experiences of being part of the Live Music Now scheme, the impact it has had on them and their careers and how valuable they feel the charity's work is.
Appropriately for an event in an auction house, a number of donated prizes were auctioned off during the evening which, along with a 'Tree of Promises', raised over £5,000.
"We have worked closely with our Yorkshire & Lincolnshire committee chair Mrs Scrope over the past few months to plan an entertaining evening, so we are delighted that so many people supported the event. Many guests commented on the high quality of the musicians and were very interested to hear more about our work" said Helen Mahoney, LMN North East Branch Director "All the money raised will help us continue to bring the joy of live music to those least able to access it across our region"