Live Music Now is pleased to welcome two new ensembles to the branch in the North West. They will embark on a programme of specialist training and development to hone their facilitation skills for a range of groups, including children with special educational needs and disabilities and older people in care settings.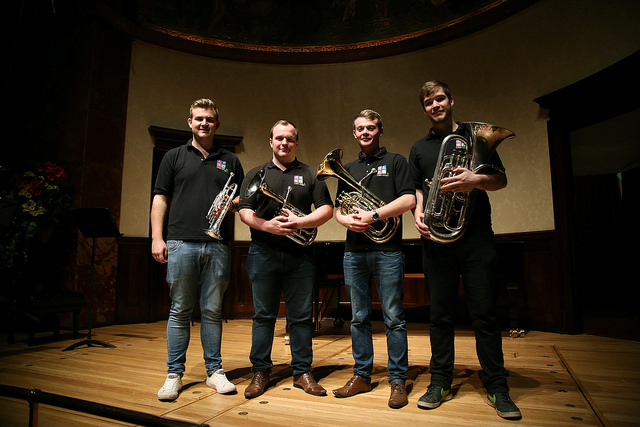 A4 Brass Quartet at The Wigmore Hall, London. Photo by Robert Piwko.
Jamie Smith – cornet
Jonathan Bates – tenor horn
Michael Cavanagh – baritone
Chris Robertson – euphonium
A4 Brass Quartet are one of the UK's leading young chamber ensembles. Based at the Royal Northern College of Music in Manchester, A4 Brass is comprised of principal players from some of the UK's leading brass bands, including the world famous Grimethorpe Colliery and Foden's bands.
The quartet has a unique blend of instruments, with a cornet, tenor horn, baritone and euphonium creating a distinctive sound that stands out from the standard brass quartet. The great technical capability and musical versatility of the quartet was recognised by the Royal Northern College of Music in the group's first year together. Firstly, the quartet won the Philip Jones Brass Ensemble of the Year prize and after consequently being invited to represent the brass department at the overall prize, went on to win the Christopher Rowland Ensemble of the Year Award, claiming both the judge's and audience vote. A4 Brass Quartet are kindly sponsored by Chalker's.
How did your quartet get together?
A4 Brass Quartet formed at the Royal Northern College of Music in October 2013 during their first year undergraduate studies. It was during this first year that the quartet won the college's brass ensemble prize (Philip Jones Brass Prize) and went onto win the overall ensemble of the year award (Christopher Rowland Ensemble of the Year Award). Both of these competitions were open to all levels of study, from undergraduate to doctorate level, so it was at this point we realised that we have something good going!
Why did you want to join LMN?
After performing lunchtime concerts and evening recitals for the first four years, we decided we wanted to expand and diversify our work into education and healthcare. This has seen us become Live Music Now musicians and we now regularly perform in schools, hospitals, day centres and care homes in addition to our regular concerts.
What have you learnt so far?
We have definitely learnt that no two LMN concerts are the same! As LMN musicians we have learnt to be adaptable and flexible as you never quite know until you arrive at a concert exactly what your audience is and how they are going to react. Having lots of repertoire prepared is important in case we need to change any pieces during the concert.
What are you looking forward to?
As a quartet we are looking forward continuing to fill our diary with a wide range of engagements, from regular concerts to LMN work. It is fair to say that the LMN work we have begun to do is now our most rewarding, as we can see first-hand the impact that our music is having on such a wide variety of people.
What's your quartet up to outside of LMN? 
Outside of LMN we are very busy as a quartet, with concert bookings already stretching to 2020! Recently we made our Wigmore Hall debut as a result of winning the Tillett Trust Young Artists' Programme, and in January we are making our Bridgewater Hall debut as part of the Manchester Midday Concert Series. The rest of November will see us once again perform at ITV's Christmas Carol Concert, aired on Christmas Eve, as well as a Park Lane Group lunchtime concert at St Martin-in-the-Fields Church, Trafalgar Square. A4 Brass also were recipients of the Tunnell Trust Awards for Young Musicians, which will see the quartet undertake a tour of Scotland in March 2019.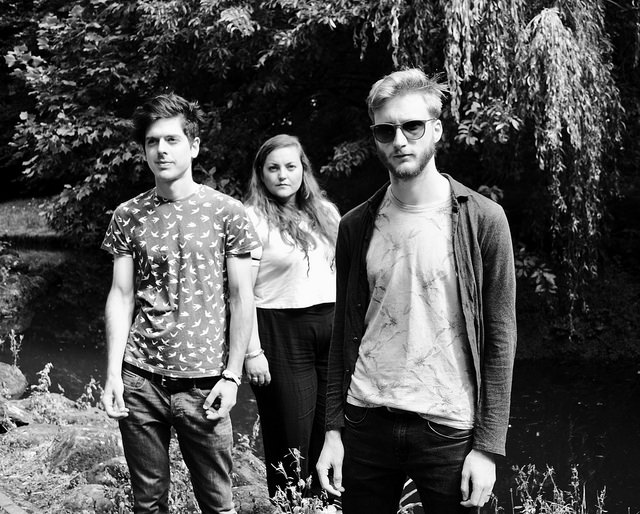 Bird & Family Bryan is an alternative pop band based in Liverpool made up of Mickey and Pip on vocals, keys and bits, Hedi on guitar and Bevil penning the lyrics. Stretching back to the winter of '16 BFB was formed on the back of Mickey and Bevil's writing spree the previous summer. With their collection of uniquely arranged originals, Bird has impressed, captivating audiences across London and Liverpool.
Bird's is a unique sound built upon close vocal harmonies underscored by lush synths and intricate guitar textures. Their thoughtfully crafted melodies play above a purposeful and vibrant groove.
Their songs evince a profound connection between music and words and paint intense and exotic tales, sometimes inspired by folklore and history, other times emerging from the music itself.
Whilst they draw from an extensive palette of influences, Bird nevertheless directly immerses the listener into their intriguing, majestic world.
How did Bird & Family Bryan get together?
We got together during the summer last year, when Mickey had had writing spree with poet (and Bird's lyricist) Bevil. We began working on the material together and Bird & Family Bryan was born!
Why did you want to join LMN?
We have a great appreciation and respect for the incredible work that Live Music Now does, and the training and experience it provides its musicians and performers with is invaluable. Pip and Hedi had been lucky enough to be on the scheme in the South East with folk ensemble, Tir Eolas, but since relocating to the North West and setting up BFB are delighted to be working in their new community and exploring new ways of engaging with audiences with their new ensemble.
What have you learnt so far?
So far we have been learning anew the value of music as a method of direct communication. We have witnessed some incredible responses and recently enjoyed a fantastic day at Kingfisher School in Oldham.
What are you looking forward to?
We're looking forward to developing our skills as leaders and playing to our individual strengths in sessions. We have some residencies coming up which will allow us to forge deeper relationships with our participants and allow us time to try out our new ideas.
What are you up to outside of LMN? 
We're about to go into the studio to record the new material we've been working on. These tracks will become our debut EP which we hope to release in the Spring. We have really enjoyed playing at festivals in Liverpool over the summer (LIMF, Smithdown) and look forward to our upcoming dates in the new year!