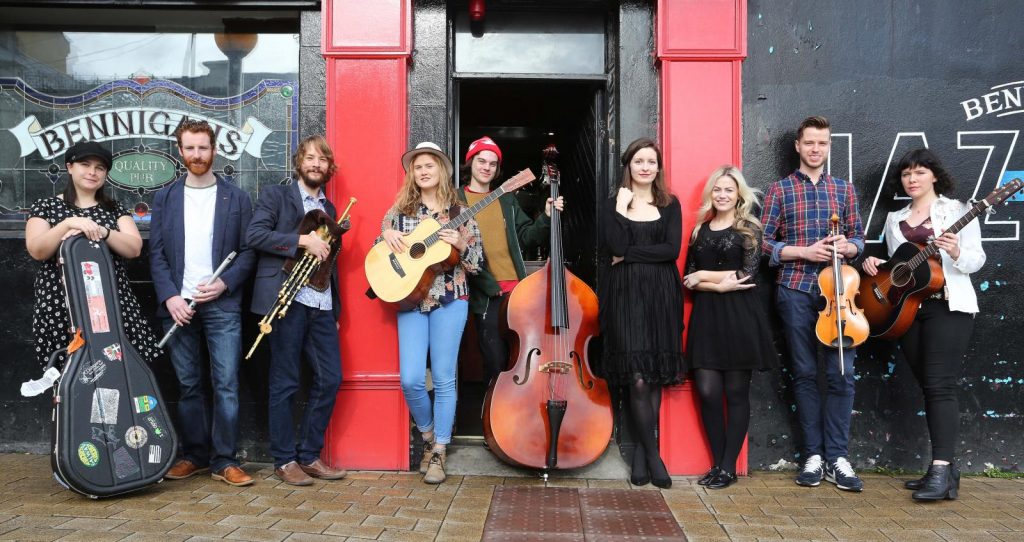 Nine of Northern Ireland's most talented young musicians have joined the ranks of music charity Live Music Now, to bring the joy and wellbeing of participatory music into schools, care homes, day centres and other community settings.
They will embark on a programme of specialist training and development to hone their facilitation skills for a range of groups, including children with special educational needs and disabilities, older people suffering isolation and loneliness and those in hospitals and hospices. Their work is supported by The National Lottery through the Arts Council of Northern Ireland.
The groups include Irish traditional band Réalta; Duo, featuring soprano Ellen Campbell and pianist Vicki Schmidt; jazz duo Jack Kelly and Maya Goldblum, singer songwriter Maryann McDonnell and viola / guitar player Owen Denvir.
Alice Lewis, Director for Live Music Now's Northern Ireland Branch, said,
'Live Music Now recruits exceptionally talented young musicians with a passion for sharing their music with people who wouldn't ordinarily get to experience high quality live music. We are particularly delighted with this year's intake of musicians spanning a range of genres – Irish traditional, jazz, pop and rock, classical and contemporary. The musicians will work on a range of diverse projects over the next year, delivering hundreds of music sessions to thousands of audiences, including children in special schools, older people in care homes and day centres and intergenerational audiences in a community 'clachan' on the Keady Mountain, Limavady.'
New musician on the scheme, Conor Lamb of Realta said,
'Music is a powerful and magical thing. It has the ability to evoke strong emotions and truly make an impact on people's wellbeing. I am delighted to be part of the Live Music Now initiative and to be given the opportunity to perform for people who do not have the same access to music as many of us take for granted.'
Jazz singer Maya Goldblum, originally from Idaho but now based in Derry/Londonderry, said,
'Being on the Live Music Now scheme is life changing and impactful because we get to witness and be a part of how the power of music lights up the lives of people who don't have access to regular live music performances. I shook a man's hand at a Day Centre last week, saying "have a good day" and he replied by saying "my day will be great because of you." Knowing that we're bringing joy to people lives through music is the most meaningful experience and I am so happy and honoured to be one of the new musicians on this years LMN scheme.'
Ciaran Scullion, Head of Music, Arts Council of Northern Ireland, said,
"The Arts Council of Northern Ireland is really proud to support this important project through National Lottery funding.  We are committed to providing meaningful opportunities for people to engage with the arts and the Live Music Now project will bring joy to hundreds of children, with special needs, across the region through developing the skills of some of our most talented musicians.  Congratulations to all involved."