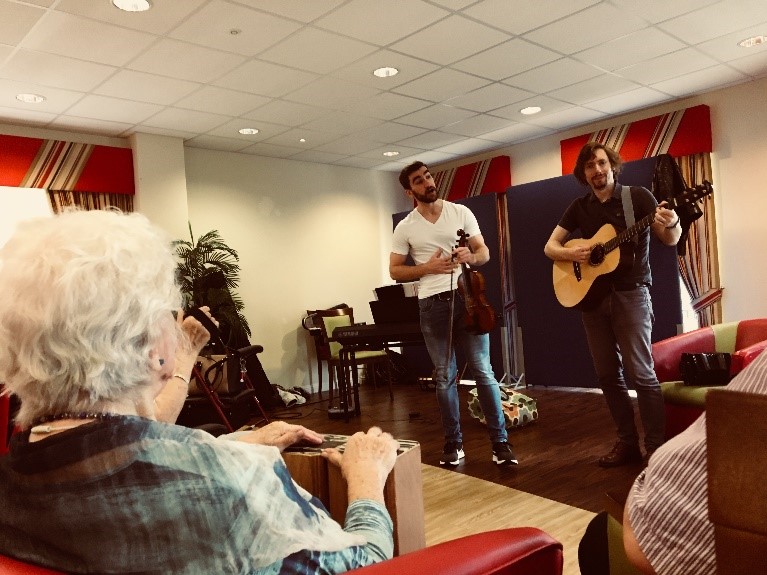 Live Music Now (LMN) is joining forces with the award-winning charity Plymouth Music Zone (PMZ) to make a world of difference to older people's lives by taking new kinds of music to older people in residential homes across Plymouth. PMZ has invited five LMN musicians to join them in special tours of the residential homes they work in across the city.
PMZ runs over 50 regular weekly creative music-making sessions engaging a diverse range of people who may be facing many different challenges in their lives. Like Live Music Now, part of their work includes reaching out to reduce isolation and increase inspiring creative opportunities for older people in sheltered housing schemes and care homes. This month, PMZ will be welcoming Live Music Now musician, Josh Doughty, who plays a Western African harp and lute type instrument called a Kora. This will be the first time PMZ has taken a Kora player along with them to residential homes. News of the performance has already inspired one of the participants at Devonport Views residential home to successfully seek out and buy the instrument – in a local charity shop!
Plymouth Music Zone's Executive Director, Debbie Geraghty, said it's all about bringing inspiring musical worlds to local people's doorsteps:
"Plymouth Music Zone is a charity that loves music, loves people and loves making a difference. So a lot of what we do is about bringing extraordinary opportunities to extraordinary people so extraordinary things can happen. Inviting wonderful national music charities like 'Live Music Now' to Plymouth opens up people's eyes – and ears! – to new kinds of exciting music and opportunities they might never have the chance to ordinarily take part in. It also means our Music Leaders can learn from inspiring international musicians and we can share with bigger charities about the ongoing work we do in communities".    
For Live Music Now, it's a great opportunity to draw on PMZ's local knowledge and experience, and for our musicians to make a deeper connection with the care home residents, building on the wonderful relationships that PMZ's music leaders have already formed.
This is the second of 3 special music programmes brought to older people in the city by Plymouth Music Zone and Live Music Now. Folk duo Bowreed gave nine performances in Plymouth homes over a week in October, and Laura Curry (soprano) and Harry Haden-Brown (piano) will be visiting in January. The tours are part of Live Music Now's Libor Concert Series, reaching veterans and their dependants living in Plymouth care homes.