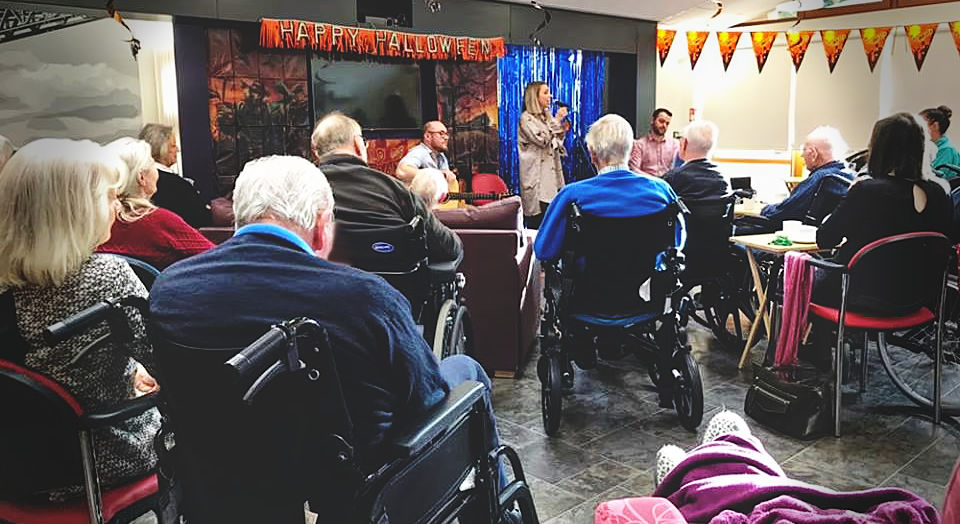 Earlier this year, Live Music Now announced an ambitious new UK-wide project, providing 700 interactive concerts for veterans of the armed forces and their dependants, all around the UK. The concerts have been made possible through the UK chancellor using LIBOR Funds, which provide financial support for Armed Forces and Emergency Services charities.
This project aims to combat isolation and loneliness for veterans and their dependants through interactive singing and live music events. These will include concerts for small groups as well as visits to individuals, for those confined to their rooms. The events will be spread around England, Wales, Scotland and Northern Ireland, in care homes and communities, where LMN's trained professional musicians will work alongside care staff.
Live Music Now Scotland are working with a number of different organisations to deliver an exciting series of performances in care homes and day centres.
The age range of the audiences for the LIBOR concerts is fairly mixed; some are quite young veterans of more recent conflicts, others are older, and a large percentage are living with dementia.
Our main partner for the LIBOR Concert series is Erskine Homes, where 40 out of our 100 Scottish performances will take place. Erskine have homes in Edinburgh, Glasgow and two in Bishopton, and we will present ten concerts in each home over the year. Erskine Homes are designed exclusively for those who have served in the forces and/or their spouses.
In Edinburgh we also have a series of concerts at Veterans' F1rst Point – a Scotland-wide support network for veterans. Performers will include the accordionist Gary Innes and fiddler Ewen Henderson, joined by singer Siobhan Miller and trumpeter Holly Boddice.
In Kilmarnock, we are running a series of workshops with accordionist Grant McFarlane and acoustic guitarist Ron Jappy through the Centrestage Communities project and its 'Gie it Laldy' group, which brings people together from different care homes for activities, concerts and meals.
The concerts draw on one of Live Music Now's founding principles – that music can have a transformative effect on its audience. During World War II, violinist Yehudi Menuhin gave hundreds of performances for Allied troops. Following the War, together with Benjamin Britten, they performed for wounded soldiers, and for the survivors of the Bergen-Belsen concentration camp. These experiences at military hospitals inspired Menuhin that music has the power to heal, and so he created the charity Live Music Now (LMN), together with his friend Ian Stoutzker.
We are delighted that Menuhin's legacy continues today and hope the LIBOR series is being well received by the audiences of veterans and their loved ones that it has been designed around.