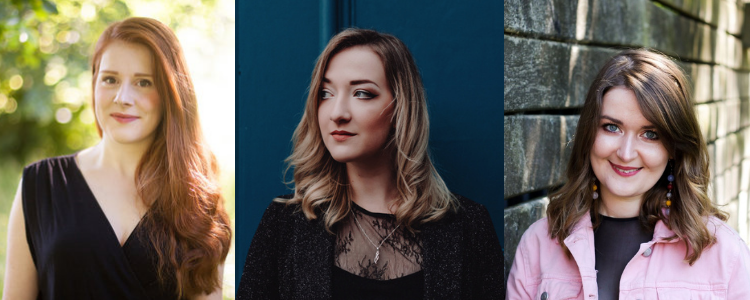 LMN Scotland singers Hannah Rarity, Iona Fyfe and Josie Duncan
During the COVID-19 pandemic, we have seen the older people in our communities become more isolated than ever, with many finding themselves totally disconnected from their families and friends. We wanted to create a project that could bring social connection and joy during this most difficult time, and to find a way for the voices of isolated older people to be heard.
'City Sounds of Nature' is generously funded by the OneCity Trust and allows care home residents to build a relationship with young professional musicians via online interactive singing sessions. The idea for City Sounds of Nature came in the early stages of lockdown after many people found they could hear and enjoy the beautiful sounds of bird song, wind and rain, thanks to there being less traffic. The central theme of the project is therefore the natural world, and the outdoor connections and memories of the residents.
Launched at the beginning of October, Live Music Now Scotland singers Hannah Rarity, Iona Fyfe and Josie Duncan have been leading online music sessions with care homes in Edinburgh, where they've had a chance to sing together with the residents and chat about what the music evokes for them. These special memories will provide the inspiration for two brand new songs to be composed over the winter by award-winning Scottish songwriter, Karine Polwart. The songs will then be arranged and recorded, and a video of the music inspired by City Sounds of Nature will be shared in spring 2021.
This special project aims to bring joy and comfort for the care home residents and their loved ones, the care home staff and the wider community during this most challenging time.
For audiences, including those living with dementia, it is widely evidenced that participating in music activities can be beneficial for mental and physical wellbeing as it lifts moods and decreases anxiety levels. Live Music Now Scotland's online concerts are a way of offering fairly paid performing opportunities to artists when their diaries continue to remain empty of live engagements.
"It was such a pleasure to connect digitally with the care home and get the chance to have face-to-face conversations with residents as well as sing, albeit with the challenges of working online, it was still a total pleasure. At a time when we are all lonely, it really lifted my own spirits to get to sing and chat with residents and have some time to focus on getting to know others.
It was lovely to meet via Zoom with the other artists, Hannah, Josie and Karine. We had the chance to bounce song ideas off of each other which was brilliant!" – Iona Fyfe
"From myself and everyone here at Clovenstone House, we would just like to say a massive thank you for the sessions over the last couple of weeks. It's been great to see various residents interact so well and respond positively to the beautiful singing." – member of staff at Clovenstone House, Edinburgh
Photo credits: Orla Stevens for the Josie Duncan, Elly Lucas for Iona Fyfe