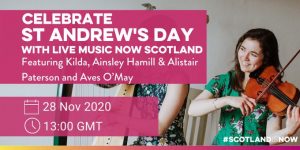 To mark Scotland's national day, held on the 30th November, Live Music Now Scotland are thrilled to be taking part in #ScotlandIsNow's Winter Festival, a Celebration of Connection, in partnership with the Scottish Government.
Artists from Live Music Now Scotland will be sharing online performances for all to enjoy in Scotland and far beyond, spreading a message of kindness, the theme of St Andrew's Day. Our musical programme includes songs sung by the artists in both Gaelic and Scots, traditional favourites to sing along to at home, such as 'Wild Mountain Thyme' and a few surprises, including a tribute to the Scottish swimmer, Isabella Moore (born in Glasgow in 1894), who represented Britain at the Olympics.
Continuing the outreach work that we would ordinarily take part in during non-COVID times, this year virtual performances will be shared with community venues in Brussels, Paris, Dublin and London.
In a challenging year like 2020, we hope that the joy and transformative effects of music can reach our audiences far and wide, including those living in isolation, hospitals and care homes.
Over and above these seven outreach concerts which will be enjoyed by the audiences within the venues, and also made freely available for all to view on our YouTube channel, we would love you to join us for a musical medley on Saturday 28 November 2020, from 1pm.
Everyone is invited to a glorious celebration of Scottish music and Gaelic song with performances from Kilda, Ainsley Hamill & Alistair Paterson and Aves O'May.
Watch online at: www.scotland.org/events/st-andrews-day/winter-festival-virtual-events
Stream and catch up on all the St Andrew's Day concerts at our YouTube channel:
www.youtube.com/livemusicnowscotland
About the artists:
Kilda – a traditional Scottish trio on fiddle, guitar, border pipes and tin whistle, featuring Mhairi Marwick Wood, Scott Wood and Norrie MacIver
Ainsley Hamill & Alistair Paterson – a traditional Scottish duo combining Gaelic song and piano
Aves O'May – a traditional Scottish duo with Beccy Amphlett on fiddle and Lucie Hendry on clarsach
Robyn Stapleton & Jean Damei – a traditional Scottish singer accompanied by acoustic guitar
About the outreach performances:
Kilda – Brussels: Between Wednesday 25th and Friday 27th November, virtual performances of Kilda will be shared with the British School, Brussels; Residence Porte de Hal (a care home for elderly people with visual impairment) and Armonea – les terrasses du Bois, an elderly residential care home.
Ainsley Hamill & Alistair Paterson – Dublin: On Sun 29 November, the duo will share a lively music performance via YouTube with the geriatric wards of Leopardstown Park Hospital, with some special Scottish treats to eat courtesy of the Scottish Government's office in Dublin.
Aves O'May – London: On Monday 30th November, the duo will share a beautiful music performance with Peel Centre, Clerkenwell, a lunch club for over-55s.
Robyn Stapleton & Jean Damei – Paris: On Monday 30th November, the duo will share an online concert with Hôpital Necker-Enfants maladies, a children's hospital and the geriatric ward of Hôpital Henri-Mondor.