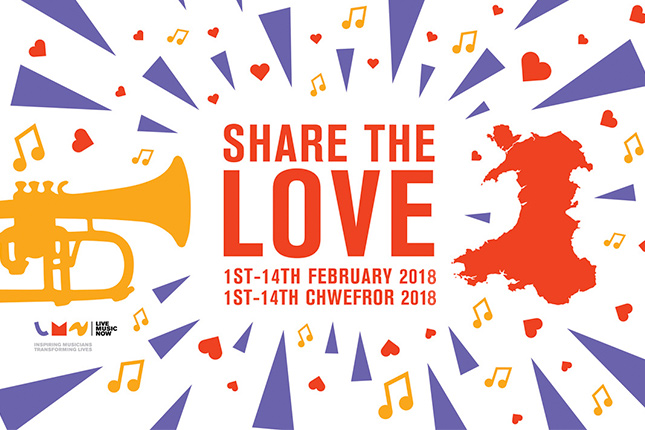 If music be the food of love, bid on and share the love with people in Wales this Valentine's Day 2018!
Live Music Now Wales delivers over 450 exceptional live music performances and workshops to vulnerable groups across the country every year! Working with outstanding early career professional musicians of all genres, they train and develop them to transform the lives of isolated elderly, those living with dementia and mental health challenges, children and youth with special educational needs and disabilities, and families in deprivation and rural isolation. They are the only national arts charity in Wales committed to working in each of the 22 Welsh counties annually – and they need YOUR help to share the love this Valentine's and help them reach more people across Wales with the transformative and healing power of live music.
Share The Love is an annual online silent auction event to raise funds for the work of LMN Wales, with 2018 the first year! Generous businesses and individuals from across the country have donated a range of amazing gifts and experiences for anyone to bid on and grab a bargain, whilst supporting our work.
Between 1st-14th February 2018 you can bid on the event on our LMN UK Facebook page at  https://www.facebook.com/events/186574835410020/, OR you can submit closed bids for the list below by emailing [email protected]. Bids are accepted from 1st Feb until noon on February 14th when winners will be announced and contacted for payment and given details to claim their prize. A minimum bid of £5 is requested for all LOTS which means you really could grab a brilliant offer, and a unique prize.
The full list of items will also be posted here on the LMN website livemusicnow.org.uk, and we will be promoting the businesses who have donated items on the event page and Twitter throughout the first two weeks of February. You can help us raise more funds and share the love further by sharing this event with your friends and encouraging them to get involved!
Tweet about the auction to @livemusicnowcym and @livemusicnowuk using the hashtag ShareTheLove18.
For more details on the work of LMN visit livemusicnow.org.uk. To sign up for the LMN Wales quarterly newsletter and find out what we are doing across the country please email [email protected]
Share The Love 2018 – Auction Items:
Lot 1 – Family/group surf day 2hrs x up to 8 people (aged 8 and above) with Cressey's Surf Academy Porthcawl www.cresseyssurfacademy.com
Lot 2 – Ten preschool music sessions with Tempo Tots Cymru  www.tempototscymru.com
Lot 3 – The Good Life Experience , two adult camping tickets to Cerys Matthew's North Wales family friendly festival www.thegoodlifeexperience.co.uk
Lot 4 – One hour concert in your own home with professional harpist Bethan Semmens https://www.facebook.com/bethansemmensharpist/
Lot 5 – 3 x 3hr sessions at The Stage Centre: three consecutive weeks of singing, dancing and acting in the Cathedral School, Llandaf (either the 7-13yrs 10-1pm session or the 11-2pm 14-19yrs session) www.thestagecentre.co.uk
Lot 6 – Vocal coaching session with professional soprano, Fflur Wyn www.rayfieldallied.com/media/all/fflur-wyn
Lot 7 – Vocal coaching with professional Tenor, Gareth Dafydd Morris (Welsh National Opera) https://www.garethdafyddmorris.com
Lot 8 – Vocal coaching with professional soprano, Claire Watkins (Welsh National Opera) www.welshsoprano.com.
Lot 9 – one day studio recording session and mix for one song, Kings Road Studio, Cardiff www.kingsroadstudio.co.uk
Lot 10 – One hour beginner taster or improver cello lesson with professional teacher, Lucy Simmonds in her Pontyclun studio www.lucygoldbridge.com
Lot 11 – Climbing activity session at Boulders, Cardiff www.bouldersuk.com
Lot 12 – Signed rugby ball from the Scarlets Team www.scarlets.wales
Lot 13 – 50min Sports Massage with experienced massage therapist, Sean Allen
Lot 14 -Signed Britney Spears gold disc with certificate of authenticity, donated by Katie at Kusten Vorland Asbestos Experts
Lot 15 – Professional photoshoot with Balance Photography Studio at their studio in Cardiff Bay, plus 5 prints of 2 different images www.facebook.com/balancephotographycardiff
Lot 16 – Music theory lesson with Dr Gareth Churchill www.garethchurchill.co.uk
Lot 17 – A beauty bag and notebook from Cardiff based illustrator/artist Lucy at Dippy egg www.dippyegg.net
Lot 18 – Two tickets to The Upbeat Beatles 24th March 2018 plus free drink each at the Pavillion, Llandrindod Wells www.pavilionmidwales.co.uk
Lot 19 – Two tickets plus free drink to The Bon Jovi Experience 14th April 2018 plus a free drink each at the Pavillion, Llandrindod Wells www.pavilionmidwales.co.uk
Lot 20 – One night stay in Kiln Park, Tenby Pembrokeshire, 20 May 2018 in a brand new, 8 berth, 2017 Swift Bordeaux caravan
Lot 21 – A lesson with acclaimed Italian soprano, Nuccia Focile courtesy of Wales International Academy of Voice http://www.uwtsd.ac.uk/wiav/
Lot 22 – A lesson with renowned opera star, tenor Dennis O'Neill CBE courtesy of Wales International Academy of Voice http://www.uwtsd.ac.uk/wiav/
Lot 23 – Session for 2-5 players (off peak) at Escape Rooms Cardiff – 3 rooms with 60mins to escape! www.escaperoomscardiff.co.uk
Lot 24 – A hamper of delicious Welsh cakes and treats from Fabulous Welshcakes in Cardiff Bay www.fabulouswelshcakes.co.uk