On Sunday 17 April, LMN led an extraordinary and star-studded concert at Kings Place, to celebrate the life and legacy of Yehudi Menuhin. The packed auditorium included musicians, supporters, members of the public, and delegates from LMN organisations in 12 different countries. It was supported by Arts Council England.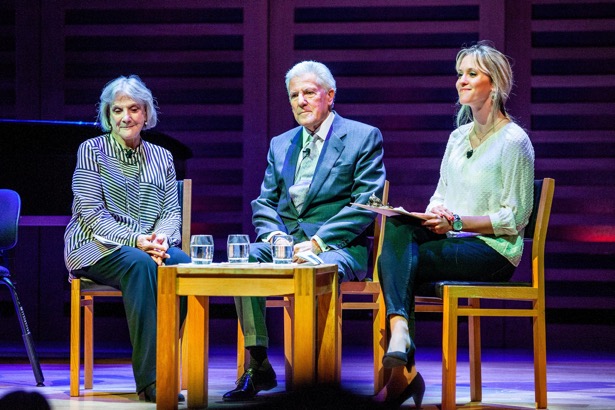 Introduced by Clemency Burton-Hill, the concert began with a discussion with Menuhin's daughter Zamira, and his great friend Ian Stoutzker. They described Yehudi Menuhin's experiences during the Second World War, during which he gave hundreds of performances for allied troops at home and abroad. After the war, he also performed for those who had been wounded, and the survivors of the Bergen-Belsen concentration camp. Those experiences showed him how important music can be as a way to bring hope and happiness back into people's lives, and it was for this reason he founded Live Music Now in 1977, together with Ian Stoutzker. The charity has since gone on to become hugely successful throughout the UK, training and supporting young professional musicians to visit care homes, special schools, hospitals, and more. Each year, it reaches over 120,000 people. It has also spread to other countries, most successfully in Germany and Austria, but is also developing well in many others.
The musicians performing were all prominent past and current members of the LMN scheme, who all spoke passionately of the important role LMN has played in shaping their artistic lives.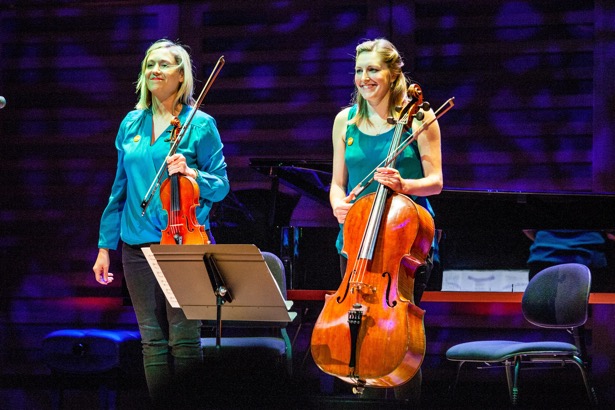 The first performance was given by Hannah Dawson (violin) and Cara Berridge (cello) of The Sacconi Quartet. They performed Bartok Hungarian Folk Melodies arr. Karl Krauter for Violin and Cello.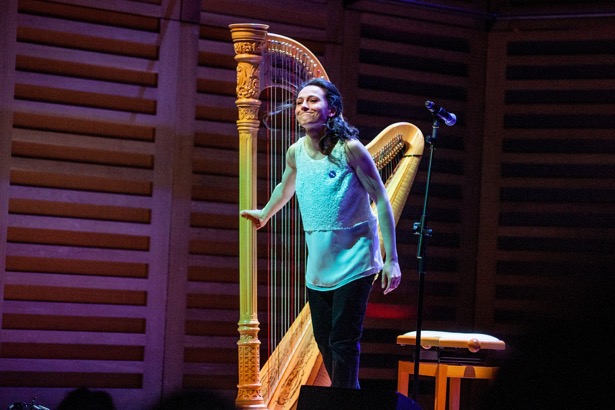 The next performance was by Ann Denholm (Official Harpist to HRH the Prince of Wales), who played Fauré – Impromptu Op.86.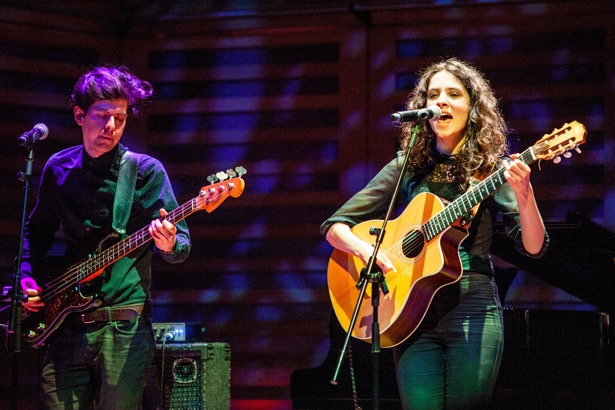 The folk group 'Tir Eolas' were next, who performed their own pieces entitled 'The Call' (by Ruairi Glasheen) and 'Aida' (by Laura Snowden). Laura spoke about the particular impact that Menuhin had had on her life, having graduated from the Menuhin School, and then joined LMN. She said that her experiences of visiting schools and care homes for LMN had been inspirational.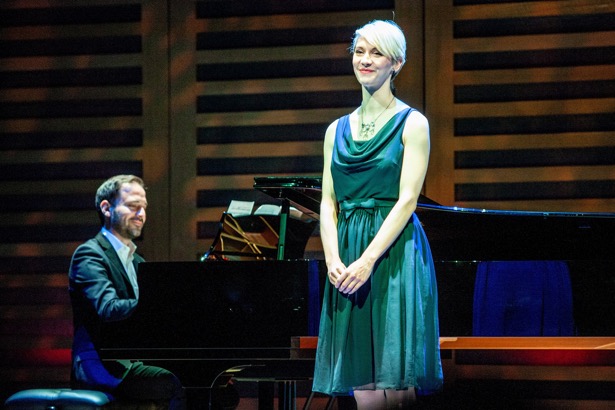 The next performance was given by LMN Scotland musicians Laura Margaret Smith (mezzo-soprano) and Geoffrey Tanti (piano). They performed three movements from 'A Castle Mills Suite' which had been commissioned by LMN from composer John Maxwell Geddes. The piece had been created by visiting residents in care homes, and drawing texts and ideas from their memories. It was an intense and personal performance.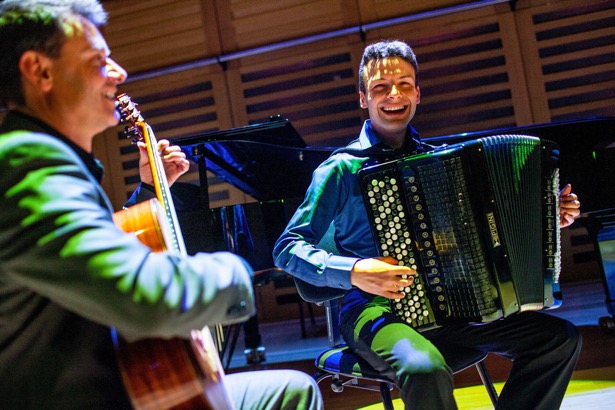 The final performance was given by Craig Ogden (classical guitar) and Miloš Milivojevic (classical accordion). Both spoke with great enthusiasm about Live Music Now, and impact that the scheme has had on their highly successful performing careers. They played Vivaldi's Guitar Concerto in D major, and Piazzolla's flamboyant 'Libertango'.
Audience members commented on the high musical standard and emotional intensity of the performances. To imagine such exceptional music being performed in care homes, special schools, hospitals and community settings – that was Menuhin's great vision. LMN musicians no do this every day, all around the UK. We are grateful to everyone who attended this special concert, and who has supported LMN in our first four decades. You can help LMN in lots of ways, by volunteering or making a small, regular donation. More information can be found here. Thank you for considering this.
Photo credit: Ivan Gonzalez