The national movement for music and dementia has just taken a big step forward with the publication of LMN's Live Music in Care ("Cerddoriaeth Fyw mewn Gofal") at the Welsh Assembly.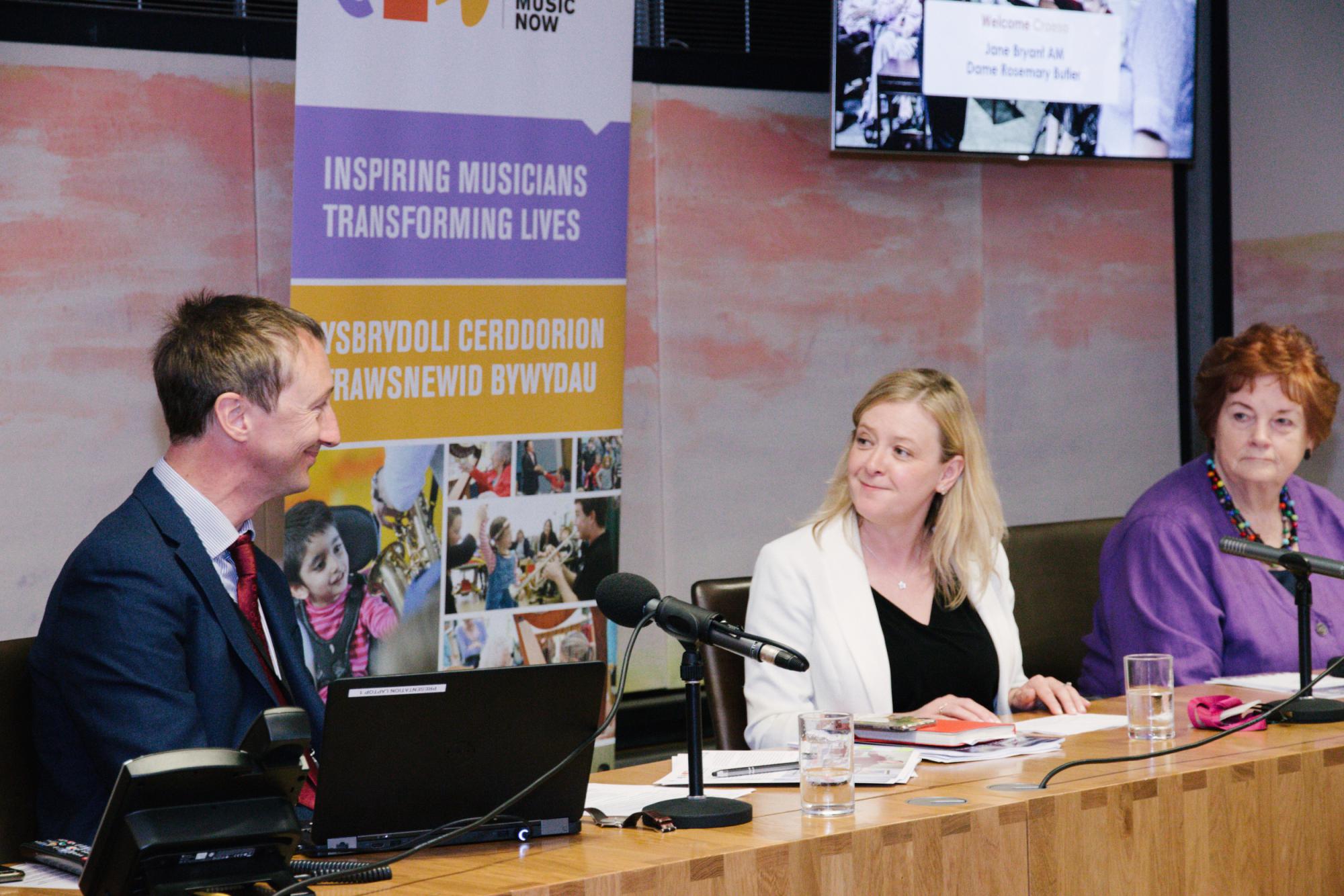 Sponsored by Jayne Bryant AM (Chair of the Welsh Assembly's Cross Party Group on Arts and Health), the launch event was held on 24 September 2019 on 'National Arts in Care Homes Day' and in the lead-up to BBC Music Day. Together with many national organisations, including MusicforDementia2020, we aim to enable everyone living with dementia to have access to regular and meaningful live music. Musician Nile Rogers, BBC Radio DJ Lauren Laverne, and Line of Duty actress Vicky McClure who presented the BBC programme "Our Dementia Choir" earlier in the year have all lent their voices to the cause.
There are 850,000 people living with dementia in the UK, (42,000 of whom are in Wales), and this figure is expected to increase to over a million people by 2025. Whilst there is no known cure, there is clear evidence that music can help alleviate symptoms such as depression and agitation, helping people live happy and fulfilled lives alongside their diagnosis. The Live Music in Care report has been supported by the Baring Foundation, and written by the University of Winchester. It shows that carefully delivered, meaningful live music activities can have significant benefits for the residents at care settings and also the people who work there. It concludes that this can lead to them being a happier place to live and work, and sets out a series of practical recommendations of how to achieve this. It builds on the free resources and toolkits in the LMN website A Choir In Every Care Home. It is the first time the impact of music on a whole care setting has been demonstrated.
The report was launched at the Welsh Assembly, chaired by Dame Rosemary Butler (Chair of Live Music Now Wales) to an audience of adult social care professionals, Assembly Members and senior representatives of the Arts & Music and Health/Social Care sectors in Wales. It began with a rousing introductory performance by LMN Wales Musicians Olivia Gomez (Mezzo Soprano), Joseph Cavalli-Price (Piano).
LMN's Executive Director Evan Dawson then introduced the report and its key findings. Adam Hessledine (Manager of Woffington House Care Home, Tredegar), Sarah Edwards (Artist in residence at Pendine Park Care Home, Wrexham) and Nia Davies-Williams (Musician in residence at Bryn Seiont Newydd Dementia Care Centre, Caernarfon) later joined for a panel discussion.
Dame Rosemary Butler commented:
"Arts and music represent a cost effective and joyful way to help those living with dementia and their carers, and through Live Music Now's work I have seen the impact for myself many times. It is quite awe inspiring to see the difference, but far too many people never receive these opportunities. Public investment in this area remains low, and Adult Social Care rely on charities to provide these services but this needs to change to ensure everyone with dementia has access to the transformative power of music."
Jayne Bryant AM added:
"Music makes a huge difference to all our lives but can have the biggest impact on those most in need. My Grandmother had dementia, and I saw the support music gave her, but also how it helped my parents with their caring responsibilities when they took part in musical activities together. The Live Music in Care report demonstrates the impact music can have on people living and working in care home settings. Music should no longer be seen as just entertainment for care homes."
Live Music Now Wales are now seeking funding to deliver embedded training sessions for musicians and care workers throughout Wales to help create sustainable, holistic musical care homes for everyone living with dementia.
There is a short 4-page version of the report, including a Welsh language version, and a full academic report, available here.