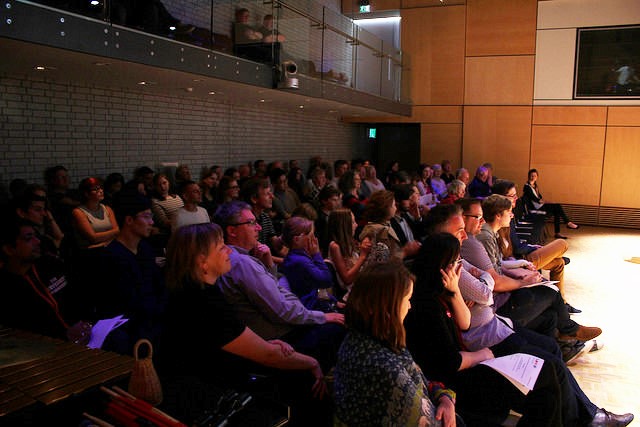 On Saturday 24th September the North West branch hosted a celebration concert to mark the centenary year of LMN's founder Yehudi Menuhin's birth. This special event at the Royal Northern College of Music showcased current musicians and alumni. It was a wonderful evening and provided an opportunity to experience the variety and high quality of the NW branch's musicians, and to reflect on the profound effect Live Music Now's projects have on audiences and performers alike.
Slidin' About (trombone quartet) opened the concert with a set which included an impressive rendition of Toccata & Fugue in D Minor – one member of the audience commented that they had never heard anything like it! This was followed by Meridiem Duo (Flute and Harp) who made creative use of their instruments to produce interesting sound effects during their performance of Bernard Andrès: Narthex.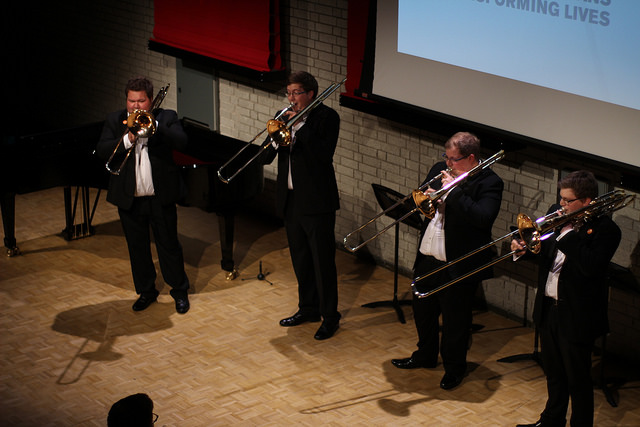 Kathryn Williams (Solo Flute) performed a fascinating contemporary piece – Salvatore Sciarrino: Canzona di Ringraziamento and recalled a special moment on the scheme when she had the privilege of playing for a child in Alder Hey hospital during the uncomfortable experience of having their blood taken – she was able to use her skills as a musician to help distract them and provide relief.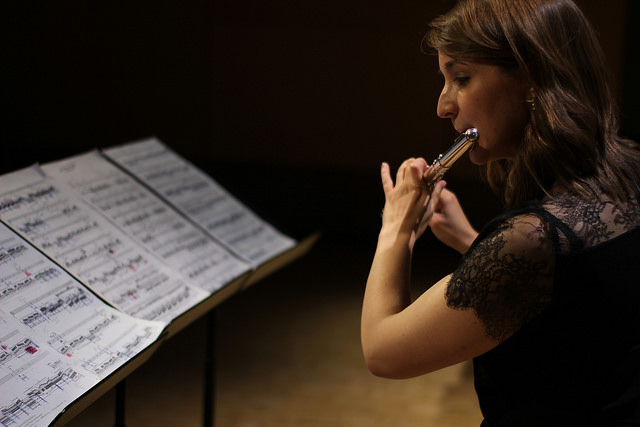 Rob Buckland (Saxophone) and Simone Rebello  (Percussion) did an excellent job of compering the evening whilst also performing with pianist Peter Lawson as Equivox Trio. Rob and Simone spoke fondly of their time on the scheme and reflected on how this has impacted their professional career:
"Being a LMN performer at such a formative time in my early career was without doubt the single most important experience of my musical life. To have to re-evaluate everything I thought I knew, and learn to really connect and communicate with audiences took my playing and performing to completely new levels. I am proud to be an ambassador for this wonderful organisation, and delighted to perform as part of this celebratory event today. Thank you to LMN for making me the musician I am today." Rob Buckland, LMN Alumnus.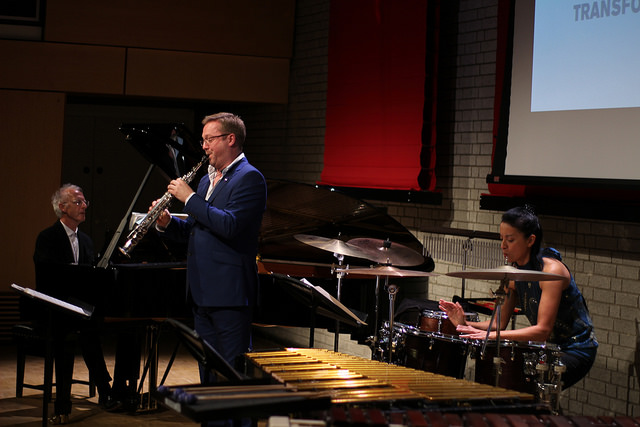 The evening concluded with an energetic set from Project Jam Sandwich (now renamed as Kabantu) who got everyone's feet tapping and provided a great finale to the celebrations.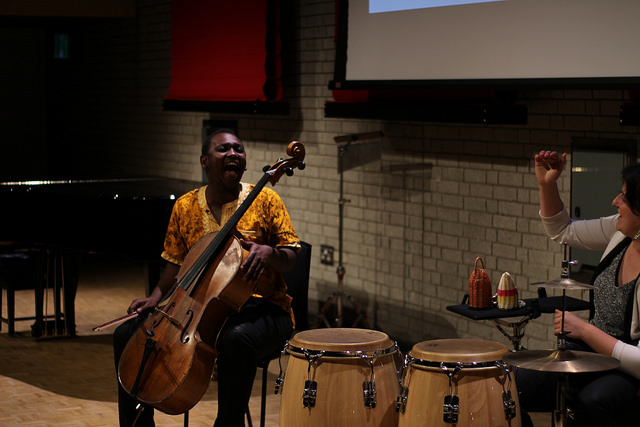 This concert was part of a much larger series of events planned to mark Menuhin's Centenary and was kindly supported by the RNCM with assistance from Manchester Trailblazers Rotary Club. Also a huge thank you to Rob and Simone for compering the evening and to all the LMN musicians for their exceptional performances.
Amy Ward, LMN NW Project Manager
Photo credits: Francesco de Chirico
To view more photos from the evening, check here: https://www.flickr.com/gp/69056319@N03/bpo9v8