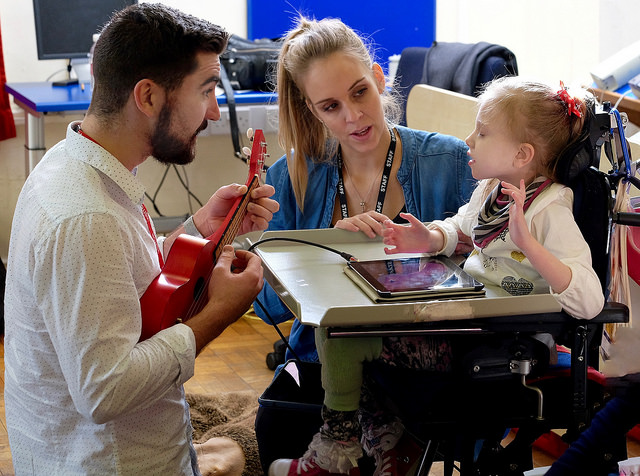 During the summer, we were delighted to launch a major new training initiative designed to equip LMN musicians with the skills and experience to perform for and work with young people with special educational needs and disabilities (SEND).  This was made possible through funding from the National Foundation for Youth Music, the Paul Hamlyn Foundation (Arts Based Learning Fund) and other regional funders.
Live Music Now has a long history of taking concerts and music projects into special schools across the UK, enabling children and young people with additional needs to access live music.  Musicians arrive on the LMN scheme with differing levels of experience of performing for young people, but very few will have visited a special school.  It's important that musicians develop additional skills and specialist knowledge to engage young people in special schools effectively; an understanding of the children's varying needs and potential responses, effective communication skills and flexibility to adapt 'in the moment'. When these elements come together, the sessions can be hugely enjoyable and rewarding for both the young people and musicians.
Led by LMN Alumna, Ros Hawley, and informed by the research of leading academic Professor Adam Ockelford, the Programme draws together existing strands of LMN training into a pathway organised in three levels:
Level 1 provides LMN ensembles with an introduction to working in special schools. Musicians take part in an introductory group training session and then work in situ alongside an experienced musician during a 3 day project gaining insight into presenting engaging music sessions for children with varying needs.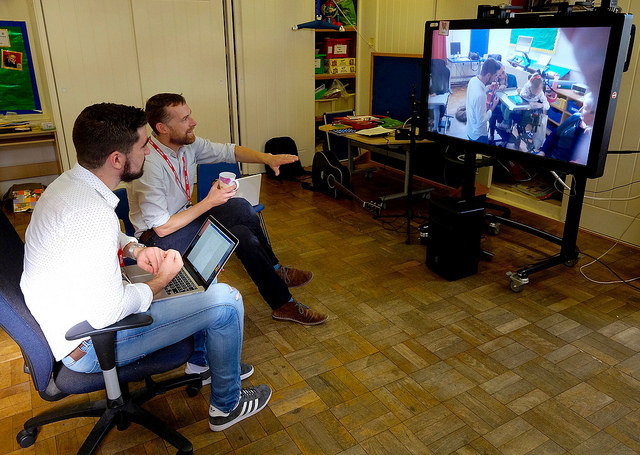 LMN South West musician Fred Holden taking part in a Level 1 SEND Inspire session and analyzing the session afterwards with mentor Jonathan Westrup. 
"I've gained a deeper understanding of the different kinds of responses each child makes, how to interact with these signals musically, and how to nurture their abilities."  Sadie Fleming, LMN SW musician, Level 1 Training
Level 2 enables musicians to develop the skills to lead a short project in a host school, with opportunities to learn from experienced school staff and gain a more in depth understanding of how to support pupils' musical and personal development.
Level 3: LMN SEND Fellowship Programme –  In the final stage of SEND Inspire, elected individual LMN musicians have the unique opportunity to embed themselves in a special school for a year to support and enrich the music provision, and develop themselves as confident SEND music leaders. Click here for a short film of LMN fellowship musician Caroline Waddington working in Kingfisher Special School.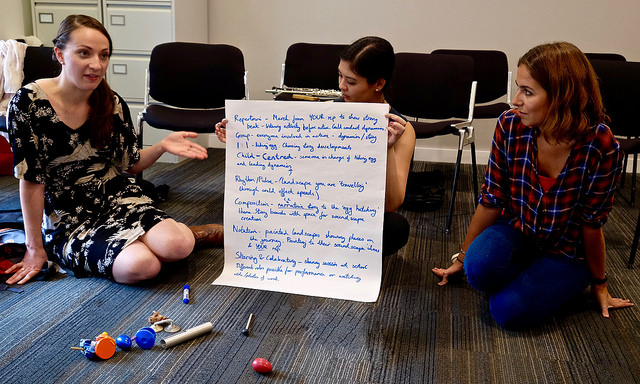 "From the various discussions over the two days, I feel like I now have a much clearer understanding of our role in the schools as professional musicians as opposed to music teachers or music therapists"  Caroline Waddington, LMN Fellow, Launch of the Level 3 Programme, Manchester, September 2016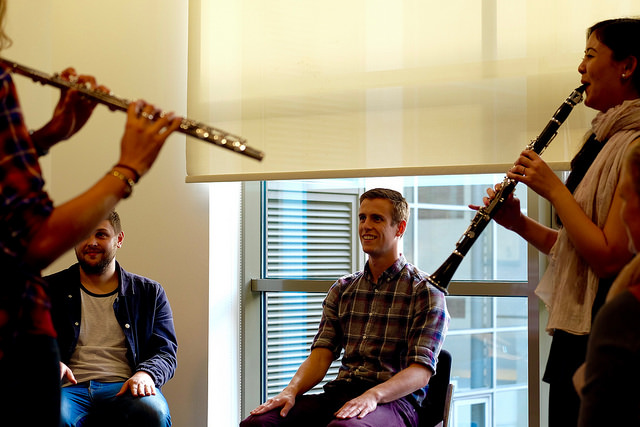 "I think it's very helpful for us to think about how we need to make subtle changes in our language/physical stance/ and what and how we might play depending on who we're working with."  Anna Ter Haar, LMN Fellow, Launch of the Level 3 Programme, Manchester, September 2016
The Programme is underpinned by Live Music Now's new Inspire Framework, developed by Ros Hawley and Karen Irwin, outlining the skills and approaches we believe to be essential ingredients for high quality LMN sessions. It also embeds the principles of Sounds of Intent (www.soundsofintent.org) – a comprehensive online resource based on 10 years of research to support the musical development of young people with complex needs.  We will be evaluating the programme in depth, tracking the progress of musicians across the Levels, and share some of the learning and case studies at a special seminar in April 2018.
LMN SEND Fellows, 2016-17
Tom Hawthorne (LMN NE)
Bea Hubble (LMN NW)
John Nicholas (LMN Wales)
Anna Ter Haar (LMN London)
Michael Tinker (LMN NE)
Caroline Waddington (LMN NW)
We are working with pupils and staff from partner special school across the country, including:
Penybryn School, Swansea
Claremont School, Bristol
The Village School, Brent
Calthorpe Academy, Birmingham
Newlands School, Rochdale
New Bridge School, Oldham
Talbot School, Sheffield
Priory Woods School, Middlesbrough
We have drawn together a specialist Advisory Committee and are very grateful to the following lead mentors and advisors for helping us develop and deliver the programme:
Ros Hawley: LMN Alumna, Specialist in music education & live music programmes for children and young people with complex learning and healthcare needs
Adam Ockelford: Professor of Music, Applied Music Research Centre, University of Roehampton
Jonathan Westrup: SEND Music Education Specialist
Georgina Aasgaard: LMN Alumna and Musician in Residence, Alder Hey Hospital
Jenny Cooper: Assistant Head, Responsible for the Expressive Arts, Village School
Adam Featherstone: Head of Music, Priory Woods School
Deborah Rogers: Head Teacher, Newlands School
For further information about the programme, please contact Karen Irwin, LMN Strategic Director, SEND   [email protected]