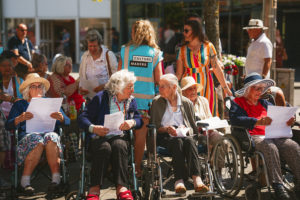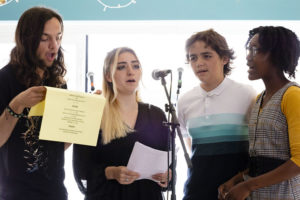 Professional musicians worked with local community groups in locations across England to create musical compositions inspired by the high street, thanks to a new Historic England and Live Music Now project. Public performances of the new pieces took place between 10-17 July.
By harnessing the connective power of music, the project sought to strengthen connections with our surroundings, in particular the local high street.
'Round Here is part of the wider High Street Heritage Action Zones. Six High Street Heritage Action Zone communities across England worked with a professional musician and young emerging talent to draw out their thoughts, experiences and memories to create beautiful and unique musical compositions.
The new pieces were performed in live musical moments across all six sites in the summer of 2022 and produced into a series of music videos curated by a young digital creative to celebrate the secrets of the heritage in our high streets.
'Round Here locations (and performance dates):
Listen to the tracks here:
Ellen Harrison, Head of Creative Programmes and Campaigns at Historic England, said: "We're delighted to have commissioned Live Music Now to co-create new musical pieces across six High Street Heritage Action Zones, bringing live performances to the high street this summer. Each piece will be shaped by local people and their experiences of their neighbourhood, so we're delighted to be working with a diverse cast of musicians and community groups to express their pride of place through music." 
Janet Fischer, CEO of Live Music Now, said: "Live Music Now is delighted to be working with Historic England and communities across England to celebrate their local heritage, hidden histories, and high streets. 'Round Here will be a unique album of stories, songs spun from the voices of local residents, through the musical artistry of young people and Live Music Now musicians. Music is a constant soundtrack to our lives, and this project is a fantastic opportunity to explore how it connects us to where we live."
'Round Here is commissioned by Historic England as part of the High Streets Heritage Action Zones' Cultural Programme, led by Historic England, in partnership with Arts Council England and the National Lottery Heritage Fund. The Cultural Programme aims to make our high streets more engaging and vibrant places.
To find out what is happening in your area and to get involved, please follow @HistoricEngland on Twitter or explore #HistoricHighStreets and visit: www.HistoricEngland.org.uk/HighStreetCulture.
Lead Organisations
Historic England
We are Historic England the public body that helps people care for, enjoy and celebrate England's spectacular historic environment, from beaches and battlefields to parks and pie shops. We protect, champion and save the places that define who we are and where we've come from as a nation. We care passionately about the stories they tell, the ideas they represent and the people who live, work and play among them. Working with communities and specialists we share our passion, knowledge and skills to inspire interest, care and conservation, so everyone can keep enjoying and looking after the history that surrounds us all.
Live Music Now
Live Music Now fosters musical lives. We recognise the transformative power of music as a connector, language and powerful tool for social change. Our world class musicians connect musically with people experiencing social exclusion or disadvantage, working together to create engaging, interactive, evidence based live music sessions that meaningfully enhance health and wellbeing, improve communication, strengthen relationships and deliver positive effects long after the last note has been played.
Live Music Now reaches over 85,000 people a year and trains and employs 250 professional musicians. You can find our musicians in care homes, hospitals, community settings, schools, libraries and hospices in England, NI and Wales and in Scotland with our sister organisation Live Music Now Scotland.
High Streets Heritage Action Zones' Cultural Programme 

The £7.4 million Cultural Programme is part of the £95 million High Streets Heritage Action Zone initiative, which is currently working across over 60 English high streets. It is funded with £40 million from the Department for Digital, Culture Media and Sport's Heritage High Street Fund, £52 million from the Ministry of Housing, Communities and Local Government's Future High Streets Fund, and a further £3 million from the National Lottery Heritage Fund. Cultural activity funded by the local grants scheme will take place from 2020-2024, in tandem with the national commissions organised by Historic England. For the national commissions, artists will work with communities and co-produce artworks inspired by England's changing high streets. Together, the local grants scheme and the national commissions make up the Cultural Programme.
Performer Biographies
About Barrow musician Maz O'Connor:
Maz O'Connor is a singer, songwriter and composer from Barrow-in-Furness, Cumbria. Based in London since leaving university, Maz returns to Cumbria often to enjoy the beautiful landscape and see family. Maz is really excited to delve into the history of the Barrow High Street, and to work with the wonderful community of the town to create some new music.
About Barrow musician Jorgie Wilson:
Jorgie Wilson is a 21 year old singer/songwriter from Barrow-In-Furness. Jorgie is excited to work with community groups including George Hastwell School, to create a composition inspired by the town's original centrepiece: Duke Street. Jorgie is interested in discovering more about local heritage and gaining further experience in the industry while helping to make music more accessible for others.
About Brierley Hill musician Chris Roberts:
Chris Roberts is an innovative and exciting young guitarist whose performances have been praised for their 'beautifully varied timbres, […] real virtuosity,' and for being 'simply mesmerising.' Chris comes from Cardiff, Wales, and recently released his debut solo album 'Adra' on Tŷ Cerdd Records exploring the concept of 'home'.
He is excited to get to know his new home in the West Midlands through this project,
and is particularly looking forward to uncovering folk songs about the area's industrial heritage.
About Brierley Hill musician Zachary Lowe:
Zachary Lowe is a student from Dudley, currently studying Music Performance & Technology at Resonance University. Zachary is excited about this project because it offers the chance to give back to the community and help develop the musical talents of young children.
About Chatham musician Thomas Harvey:
Thomas Harvey is an award-winning songwriter, producer and multi-instrumentalist. Raised in Kent, Harvey is based out of his home studio in Hackney, London where he lives and works out of a creative hub. Surrounded by many artists of different disciplines, Harvey has collaborated with many on various projects including his artist project, T. Priestly.
Thomas is excited about the opportunities that 'Round Here presents to connect with local communities and discuss their memories through music. Songwriting is a form of storytelling and, Thomas feels that, to be able to create a composition collaborating with local residents is a very special way to share the joy of music.
About Chatham musician Dani Osoba:
Dani Osoba is a singer-songwriter from Sittingbourne, Kent, writing mostly about home and belonging. Dani loves the area for having so much to explore, both in historical landmarks and contemporary culture and arts. It is Dani's hope that writing music from the Medway community raises people's opinions of the area.
About Huddersfield musician Chris Ruffoni:
Chris Ruffoni is a member of Band of Jays, a Huddersfield-based trio playing original songs about people turning into birds, communication with aliens and other unexpected matters. Their music oozes luscious three-part harmonies, supported by delicately entwined acoustic guitar, bass and percussion. Over the years they have enjoyed performing in unusual places including meditation centres, libraries, narrow boats, a milk float, a truck, a farmyard and in the smallest venue in the UK. The whimsical nature of their songs lends itself to playful, light and interactive performances.
About Huddersfield musician Jessica Whyke:
'Just a small town girl, trying to make it in the big bad world' 
PENNY is a Huddersfield based artist, with sweet and bewitching vocals, irresistible melodies and West Yorkshire charm. PENNY bares all on her songs, as she displays sentiments on toxic relationships and self-worth. While supporting the likes of Sophie Ellis Bextor and Selah Sue, through a series of upbeat, electro-pop ballads, PENNY tackles her dreams, her queerness, and her mental health journey.
About Tottenham musician Elliott Morris:
Elliott Morris is a guitarist and singer/songwriter from London. Elliott is half-Scottish, raised in Wales and Lincolnshire. Elliott is excited to collaborate with talented youngsters and compose music for performance together.
About Tottenham musician Jamal Jones:
Jamal Jones is a creative person with a passion for music from Haringey, an area where a lot of famous artists and producers have come from. I'm excited to bring fun and energy to this project and to gain new experience working with new people.
About Weston-super-Mare musician Tara Baggott:
Tara Baggott is a professional musician and SEN/D Music Specialist. She plays piano, guitar and flute and sings in a number of Bristol-based bands that regularly perform at festivals and venues all over the UK and Europe. Originally from Cronulla, Australia, Tara studied music at the Sydney Conservatorium of Music. 

Tara is excited to find out more about Weston-super-Mare, hear the stories of people's favourite memories and find out the best things to do on the High Street.
About Weston-super-Mare musician William Crawford:
William is a drummer who started playing in 2007. William's first love in music was heavy metal, but now enjoys a wide variety of genres. William's dream is to become a full-time musician.
Emerging Producer Biographies

About emerging producer Kaitlin Germain:
Kaitlin is from Pontefract (where Haribo is made!) She is excited to be part of 'Round Here in order to explore places she haven't visited yet, all the while experiencing the local music.
About emerging producer James Callaghan:
James is from Dudley which is a special area with a large history. It holds Dudley Castle and the Black Country Museum which often features in Peaky Blinders. He's incredibly excited about this project as it uses music as a language to connect people to their areas and to learn things they might never have discovered.
National Digital Creative Biography

About national digital creative Connor Divers:
Connor is a videographer and filmmaker from Penrith, Cumbria. His favourite thing about Penrith is the forest walk to the Beacon, a signal tower on top of a hill built in the 1700s, and the woodlands behind it. He's excited to be involved in this project to get people involved in screen arts.
Mentor Biographies
About mentor Sarah Fisher:
Sarah Fisher is a multi-instrumentalist and community musician based in Gateshead, North East England. Sarah facilitates music workshops for people of all ages and abilities and specialises in inclusive music making. Sarah has cerebral palsy and a hyperkinetic movement disorder affecting her left side and speech. This has enabled her to develop alternative ways to play and deliver music that does not hinder her or her participants' music-making experiences. Sarah will be mentoring emerging musicians during the 'Round Here project.
About mentor Mary Otumahana:
Mary Otumahana is the award-winning founder of The RecordShop and musician. She has had the privilege of partnering with global brands, such as O2 Telefonica, Samsung, Dr Martens, Sofar Sounds, Nike, Tottenham Hotspur and RedBull to help them reach Millennial and Gen Z audiences. The RecordShop began as a pop-up recording studio and is now a multi-purpose music space that enables young people to access music services and facilities for free. Mary has been based in Haringey for 6 years and has built a strong network that bridges the gap between the inner-city community and brands. She is passionate about bringing young people into professional spaces and reconnecting brands with young people and music culture. Mary will be mentoring Live Music Now musicians during 'Round Here.