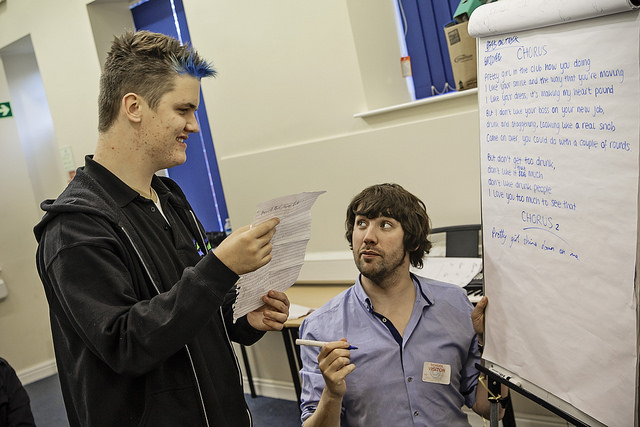 LMN musician Dan Walsh works with a student at Headlands School Penarth
Over Winter 2015/2016, Live Music Now Wales delivered the project Vision and Voice in partnership with Chapter Arts Centre and Headlands School Penarth- an Action For Children School supporting young people with behavioural disorders, autism and Asperger's syndrome. It is one of only two Action for Children schools in the UK, placing a high demand on more projects for young people with behavioural disorders.
Vision and Voice was funded by Film Cymru and took place over 10 weeks. It is an early intervention using music and film as tools to develop literacy, communication and team building skills, alongside creativity, emotional literacy, and emotional, mental and relational health for twelve young people aged 11-17 with emotional and behavioural issues, at risk of becoming NEET (Not in Education, Employment or Training).
Live Music Now musicians Dan Walsh (vocals/banjo) and John Nicholas (vocals/guitar) acted as mentors for the group of young people, encouraging them to participate and collaborate in writing lyrics and building melodies. Dan commented, "The project gives the kids confidence and a means of expressing themselves. It gives them another outlet that everybody can enjoy, and the wonderful thing about the arts is it's not a question of right or wrong."
The pupils explored communication through music and film genres by writing two original songs with Dan and John and creating music videos to accompany them, building skills and confidence. They wrote songs focusing on the theme of 'dreams' which allowed this project to act as a voice to these twelve young people, encouraging them to articulate their future aspirations.
The musicians assisted lyrical and musical development of the songs with the group, later performing and recording them professionally in Ty Cerdd Studios. Filmmaker Matt Beere, from Chapter Arts Centre, helped the pupils to develop their creativity further by creating music videos around Penarth to accompany the tracks, allowing the students to view their hard work through a final product, and even own a DVD copy of their music videos and behind the scenes footage. Matt also taught pre and post production skills alongside practical skills in film making. One student Elliot stated, "This project has helped me find my voice, helped me express my feelings and it's the best thing that could happen to me as a person."
Everyone involved in the project agreed that at the beginning the students were very introverted, not believing that they could achieve anything. However, towards the end many had developed incredible confidence and communication skills, with even two students writing their own tracks and bringing them to the group. Robin Hackett, Head of KS4, Headlands stated, "It's been brilliant seeing the journey they've come on over the last ten weeks. It's also helped them with their English work and their literacy work. Elliot has come out of his shell massively, showing real confidence. If he made a mistake singing his song he found it hard to recover and needed to start over. But at the studio recording despite being nervous when he sang a line out of order, he carried on showing real clarity of thought under pressure which is brilliant." Robin also commented on how the students went onto busking with John on the streets, raising over £10 and gaining a new found confidence and self-achievement by performing in public.
You can view the Voice and Vision project films here: https://vimeo.com/album/3962764.