"Enjoyable afternoon, lovely music and chatting to new people."

Evaluation data from the Live Music Now monthly Songs & Scones programme in partnership with Medway Libraries, provides evidence that attending live music socials improves people's connection to their community, alleviating loneliness and isolation.
Loneliness is rife in the UK and has a very negative impact on the health and wellbeing of those that experience it. [1]
The health impacts of loneliness is greater than those associated with many factors that currently receive substantial public health attention and resources (obesity, physical inactivity, air pollution). There is now substantial evidence that having a lack of social connections significantly increases the risk of premature mortality.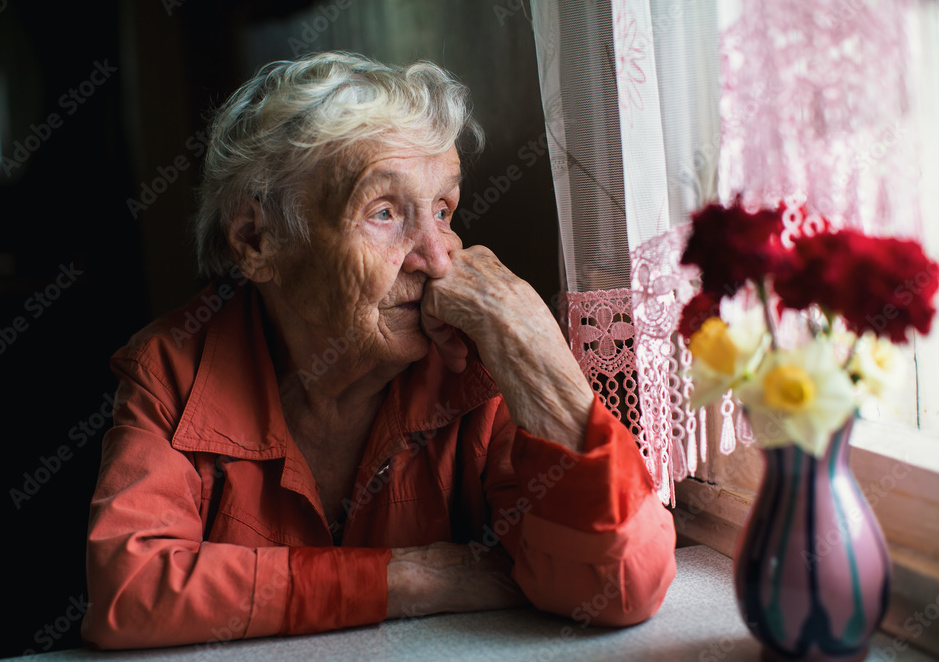 Taking part in regular cultural activities counters the negative mental health impacts of loneliness.
Adults over 50 who visited cultural venues every few months had a 32% lower risk of developing depression over 10 years. The risk was 48% lower if they engaged monthly or more.[2]
But attending cultural events or other activity is only part of the remedy. The quality and participatory design of these experiences is crucial to the development and support of new connections, relationships and community.
There is very good current evidence that live music plays a unique and important role in human social bonding[3]; it is relaxing, supports people to feel welcome and safe and therefore more likely to make new connections.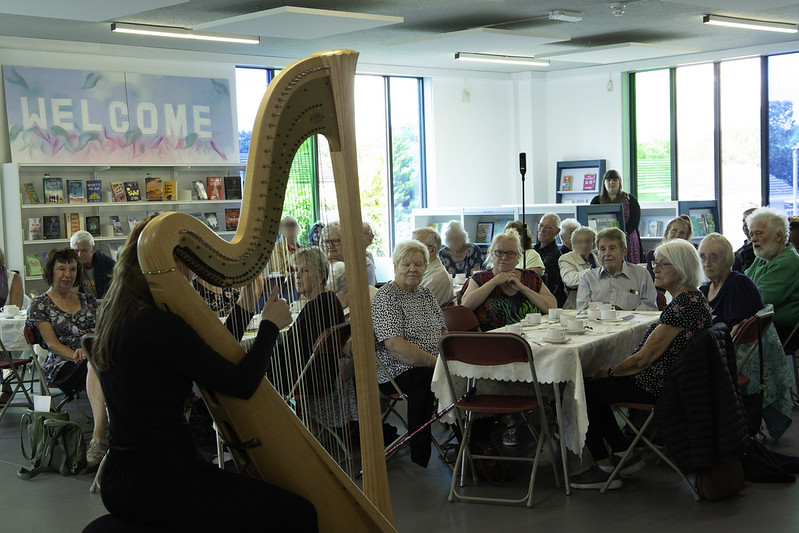 Live Music Now's Songs & Scones programme
Our Songs & Scones programme engages people living in the community who face loneliness and isolation. The events are particularly aimed at older people, but all are welcome to attend.
In Medway, live music concerts take place monthly at libraries in and around Chatham. The events include exceptional performances from Live Music Now's carefully selected and trained musicians, as well as equally important social time and refreshments.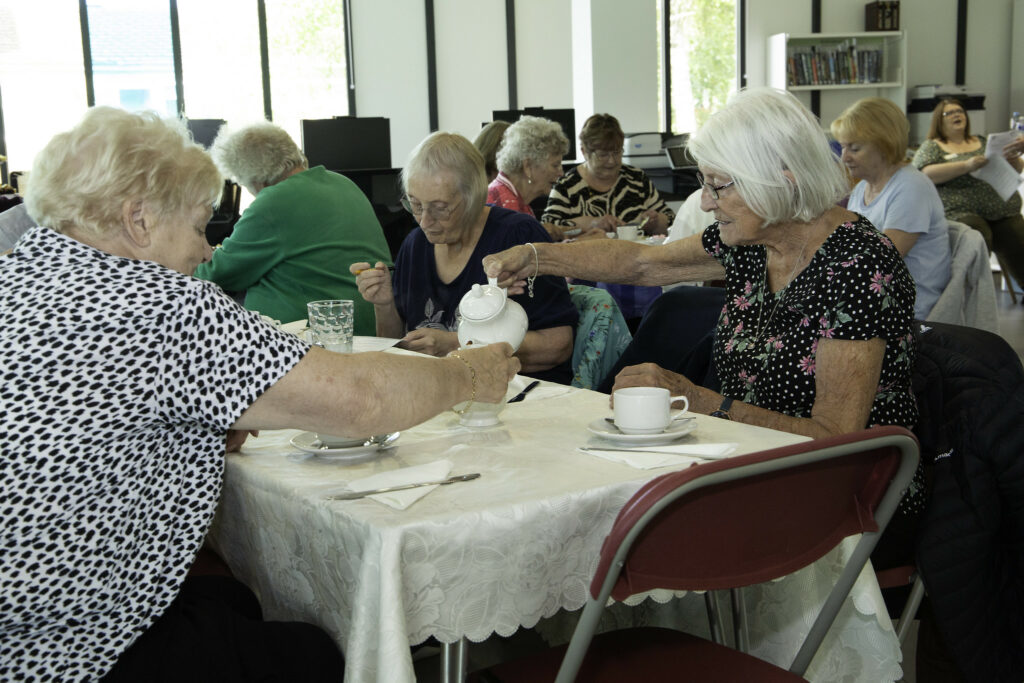 The musicians' role in the program is as much social as it is musical. Genres range from Jazz to Folk, Pop to Western Classical, Kora music to Brazilian Samba and much in between. Excellent musicianship combines with a generosity of spirit to create a special social connection with the audience.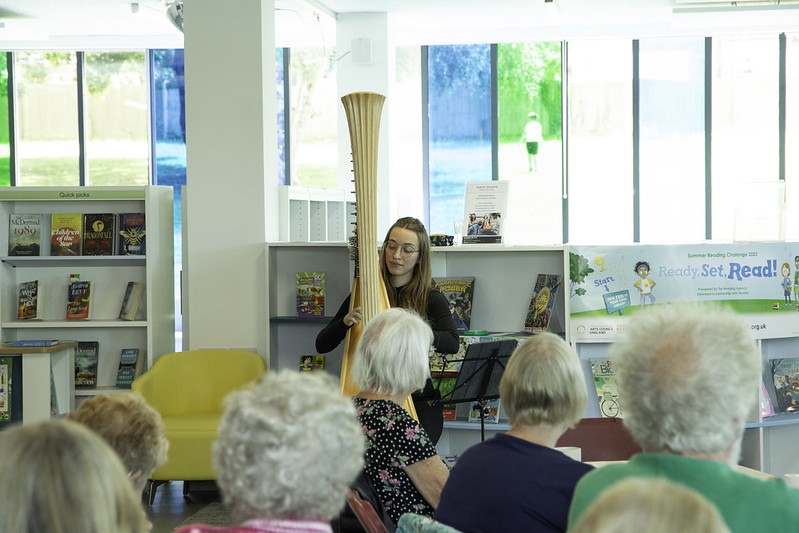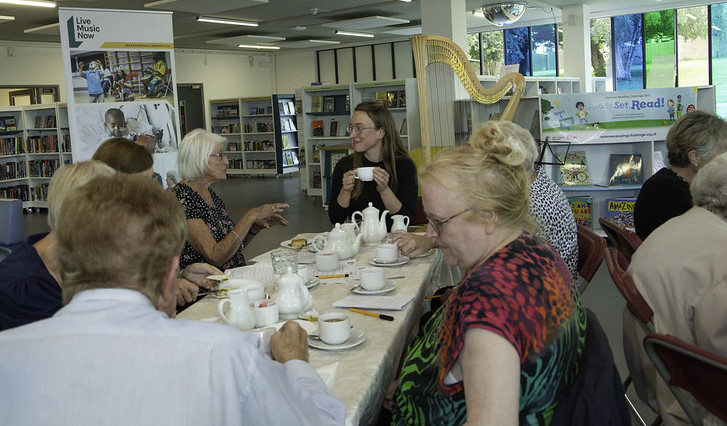 Across the year we gathered feedback from 350 participants attending Songs & Scones events in Medway Libraries. (Mar '22 – April '23)
32% said this was their first time at a Songs & Scones (at the 6 months stage this was 61%) and twenty people said they have attended more than five concerts in the series.
42% said they never or rarely attended a public social event like this.
89% had talked to someone at the event who they did not know.
Songs & Scones reaches many people who otherwise do not have a very active social life, offering them opportunities to meet and talk with new people through taking part. For some it has become part of their regular social calendar.
"This is the first time I have attended and will attend again."


Participant, Live Music Now and Medway Libraries 'Songs & Scones'
In addition, 85% agreed or strongly agreed with the statement, attending today's event has made me feel more connected to my community and 80% agreed or strongly agreed with the statement, attending today's event has made me feel more positive.
People's feelings of social connections are an important aspect of loneliness. [4] .
Our programme evaluation provides evidence to indicate that taking part in Songs and Songs is having a positive impact; participants are meeting new people, impacting how they feel about their sense of connection to community and their mood.
Medway Council commissioned the 2022-23 programme.  Ongoing funding and an intention to expand has been confirmed.
Robyn Goldsmith, Culture Development Manager and Susanna Hodder, Culture Development Assistant
  in the Medway Council Culture Team said:
'Medway Council  is delighted to be a partner and support Song & Scones with Live Music Now since April 2022. Now in its second year, this programme aligns perfectly with our priorities as a local authority and has helped create a community safe space for older people living independently in the community who may feel isolated, to come together and meet new people in a welcoming and accessible environment. The benefits and the outcomes of the project are far reaching across multiple Council services.
The feedback and reactions to these concerts have been overwhelmingly positive and it is heart-warming to see the impact they have had. So much so, that we began expanding the events to other libraries by experimental touring events. Most of the events are always fully booked with the teams sometimes squeezing in a few extra due to demand.
The quality of both the project management and the artistic performances is extremely high and per session offers very good value for money given the positive benefits for participants and audiences. The Live Music Now team are highly efficient and experienced and require fairly light touch support from Council Officers to make the programme run effectively. We are confident that our partnership with them will be a long standing one.'
[1] Article on adverse health impacts of loneliness from Campaign to End Loneliness
[2] Fancourt D, Bone JK, Bu F, Mak HW, Bradbury A. The Impact of Arts and Cultural Engagement on Population Health: Findings from Major Cohort Studies in the UK and USA 2017 – 2022. London: UCL; 2023 March.
[3] Music as a Coevolved System for Social Bonding 2020  (Savage, Loui, Tarr, Schachner, Glowacki, Mithen & Firch)
[4] ONS Census Data  2021. Loneliness-What Characteristics and Circumstances Are Associated With Feeling Lonely