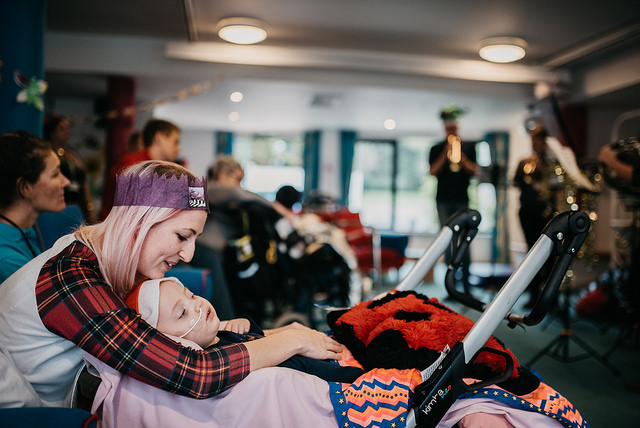 The Panto has finished to great applause, the snow starts falling, and a jolly bearded man in a red suit is saying hello to the children. Paper crowns decorate heads, inflatable Rudolphs and snowmen decorate tables strewn with cracker remains, and in the corner a young boy plays with his dad as they set up his brand-new racing track together. The five-piece brass band starts to play the first few notes of 'Once in Royal David's City and everyone starts to sway and sing along….
But it is September 2018, and just another day in the extraordinary life of Ty Hafan, the hospice for children in Wales, where Live Music Now has been resident for the past year. Ty Hafan is one of the UK's leading paediatric palliative care charities, helping children and families throughout Wales. Their aim is to make short lives, full lives, and LMN Wales are helping them do that through monthly 'All Together Now' live music events for families and staff.
"We were asked to find a suitable group for an early Christmas Day the hospice were holding at the request of one of the families, whose 3 year old daughter only had a few weeks left to live," explained Claire Cressey, Director for LMN Wales. "Blackweir Brass were the obvious choice for a Christmas performance in September and came dressed in their best festive jumpers with tinsel and baubles wrapped around their music stands. For the families it was one of the highlights of the day, and a real privilege for LMN to be a part of."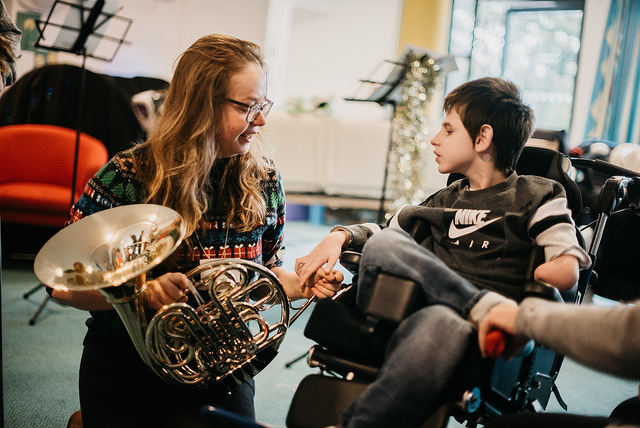 'All Together Now' was originally a Birmingham based project, with the aim of creating a safe and enjoyable event for families with special needs children to be able to enjoy together. Live Music Now Wales has run the event at Ty Hafan, and Fingers & Thumbs, an after-school club for children with special needs in Bridgend once a month since April 2018.
"It is musical therapy for staff and families" commented Lynne Phelps, Play and Therapies Lead at Ty Hafan. "I love music personally, especially the brass band, but the performances are so inclusive and uplifting, they are fantastic opportunities for our families to make memories together, a chance for respite and emotional release from just incredible musicians. We love our visits from Live Music Now."
With performances to date from Bute Clarinet Quartet, Welsh chamber folk trio Vri, Soprano Jessica Robinson and harpist Llywellyn Ifan Jones, Welsh folk fiddle duo Patrick and Angharad of Calan, a Boxing Day visit from violin/viola duo String Sisters the families have experienced a wide range of musical opportunities through the residencies, with children getting a chance to hear, see and touch instruments they have never encountered before.
Singer/songwriter Chris Webb from LMN SW performed at the hospice last month. "I try to bring myself into the room first and the music second", explained Chris, "It is a privilege for me to be welcomed into a place like that, so to know I've done it well means a lot. I was told it was incredibly relaxing for the staff, families and children, and I was able to respond to quite a lot of song requests, including one for 'the ginger singer Alan Shearer' which did make me smile. It is a really happy place, and I hope to be able to return for another session soon."
Another highlight of the residency so far came from a visit by Welsh chamber folk trio, Vri, as Staff explained:
"Children from the hospice were visibly enamoured with the music, reaching out to touch the instruments, smiling at the vibrations. Some children moved rhythmically, very excited. Many parents in attendance found the sessions a wonderful bonding experience, seeing the children reach out with both hands touching the instruments was fantastic."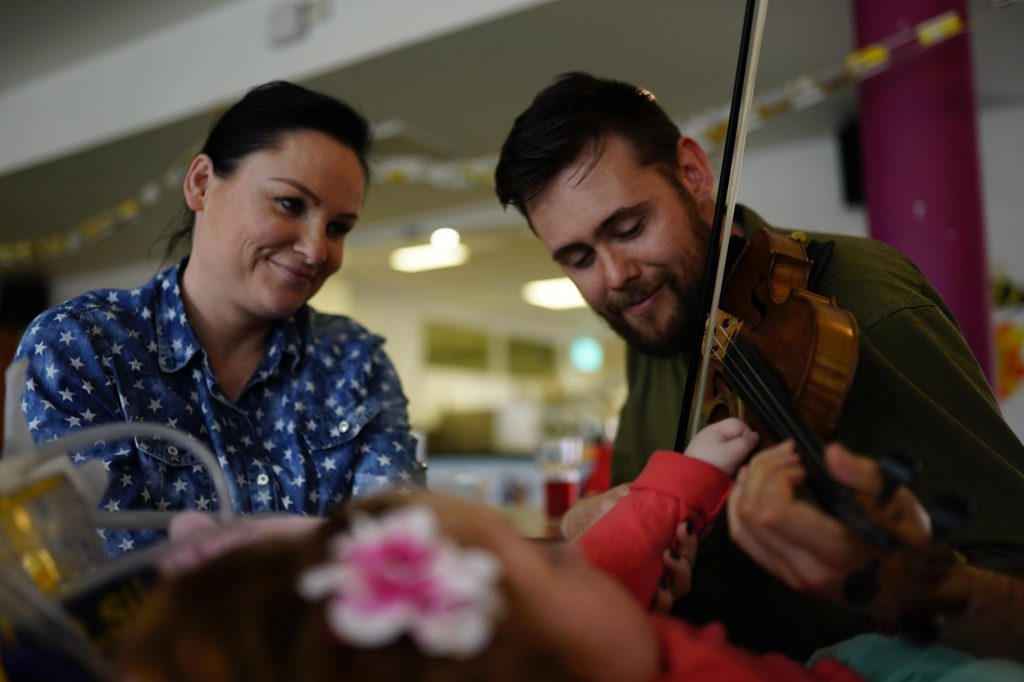 Julia, a young girl attending with her mother was visibly moved by the performance, Patrick one of the fiddle players then came over and let her touch the instrument as he played. The mother smiled and noted to the musicians and those in attendance how important the moment was, requesting any photos or recordings be sent to her to keep.
The father of Danny, a young boy with a life-limiting illness made mention of the boy's name to the musicians at the end of the performance. The musicians then pulled back out their instruments and performed an impromptu version of 'Danny Boy' specially for him. The children, staff and attendees were visibly moved.
Live Music Now provides all of the fantastic benefits that come with music performance, but also a level above thanks to their unprecedented professionalism and quality prompting responses from young people at the hospice that are really noticed by the staff and their carers. The Chief Executive of the hospice said it was the best thing he had seen there in 8 years. "Access to more sessions would be fantastic!"