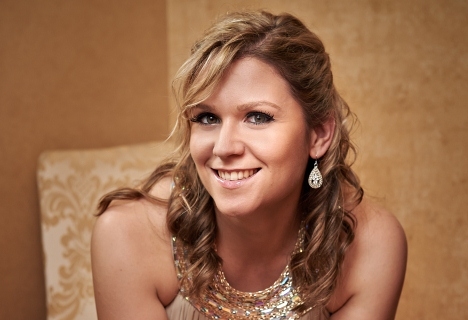 Described by The Guardian as a 'fast-rising British talent', award-winning mezzo-soprano Anna Huntley sings on concert, opera and recital stages in the UK and internationally.
Anna was on Live Music Now with accompanist James Baillieu from 2008 to 2013.
Born in Stockton-on-Tees, Anna studied at the Royal Academy of Music and the Royal College of Music International Opera School.
Currently a recipient of a Wigmore Hall/Independent Opera Vocal Fellowship given at the 2011 Wigmore Hall/Kohn Foundation International Song Competition, she is also a laureate of the 'Das Lied' Competition, Berlin and the London Handel Singing Competition. She was selected by YCAT in 2012 and is currently mentored by Angelika Kirschlager as part of the Royal Philharmonic Society/Sir Philip Langridge Mentoring Scheme.
An outstanding recitalist, Anna has worked with a number of leading accompanists including Graham Johnson (Oxford and Leeds Lieder Festivals), Iain Burnside (Ludlow English Song Weekend, BBC Radio 3), James Baillieu (Wiener Musikverein, Wigmore Hall, London), Julius Drake and Simon Lepper whilst other concert engagements have ranged from Bach's B Minor Mass with Trevor Pinnock and Haydn's Harmoniemesse with Andras Schiff to Mahler's Das Lied von der Erde with the City of London Sinfonia (Michael Collins) and Berio's Folksongs with the Hebrides Ensemble.
Highlights of recent opera seasons have been a variety of roles for English National Opera, Welsh National Opera, English Touring Opera and the Cambridge Handel Opera Group. Anna Huntley is generously supported by the Richard Carne Trust.
We caught up with Anna a few months ago and asked her about her childhood influences and how her time with LMN impacted her career.
LMN: When did you know you wanted to be a singer?
Anna: Well, I actually started singing lessons at a very young age but I didn't really know I wanted to be a singer for a long time (I actually thought I might be a lawyer!). It all started when I was four years old and I had a little solo as the 'Star' in reception class nativity play. My mum taught at the school and played the piano for the concerts. One of the teachers commented that I had a nice voice and suggested that I got some lessons. My mum thought I was too young but two years later having heard me singing round the house all the time, she decided that maybe I should give it a go. She found a teacher (Beryl Brown) through a friend's recommendation and I had a little audition (I suppose checking to see if I could sing in tune…!) before I started. I then stayed with her for ten years and she was a fabulous teacher. I feel very lucky to have had such a good start (she also taught fellow mezzo-soprano Anna Stéphany). There used to be lots and lots for festivals in the North East then and I'd go and get to know the girls singing in the competitions – quite a few  of them are still in the business.
I started piano and violin lessons at the same time – music was a big part of my life but I didn't know you could be a singer. I saw my first opera at Darlington Civic Theatre and my sister and I walked out of the theatre singing the melodies. I also remember seeing Lesley Garett on the the National Lottery when it first came out, and my sister said I could do that one day. But I never really thought that anyone from my background could be a singer.
But Beryl was brilliant and when I got to 15 she asked me what I wanted to do – whether I wanted to continue to have fun or get serious about singing. She suggested that I applied for the Junior Academy at the Royal Academy of Music and I auditioned, almost oblivious to what it really meant. Once I started, my teacher there asked me what I'd like to do in an ideal world, to which I replied that I'd like to sing but asked, 'Can you do that?!'
LMN: Thinking about your background, was there something that led you to work with Live Music Now?
Anna: My folk background – definitely. One thing I'd say about my first teacher, she was all about getting the story across. I was taken to lots of folk concerts as a child – intimate settings – and the patter, hearing people chat to the audience – it was very Live Music Now. The musicians were at ease with people. And that was something we did all the time at home. My grandma was also a very strong amateur music maker – she was from a family of six kids and lived in a 2 up 2 down growing up. My great granddad was wounded in the war and bed-ridden. My great grandma ran a shop out of the front room and the six kids would have to sleep at various relatives' houses in the evening but they'd often all congregate around my great grandad to listen and sing along to music, which was a great pastime of his.
Likewise, when I was growing up, every New Year's Eve my grandma would have a party and get us all round to sing. The idea that music was something fun, something to share – like in LMN settings – you can create an easy, relaxed environment and connect to people – that was instilled in me from a young age.
In our work with LMN, James (Baillieu) and I found many times that there might be just one song that connects people – people who hadn't moved an inch the whole time, people you weren't sure whether they were with you in the room even – would suddenly become alive, start mouthing the words; a very very powerful effect. No denying it.
Sharing something of yourself with the group of people you're performing for is a great way to connect with people and our repertoire in care homes was heavily influenced by my childhood. My sister and I learned 'The Second Minuet' for my grandparents' fortieth anniversary and I always sang that song. Another one that always got a good response was 'A Nightingale Sang in Berkeley Square' and some of the Gershwin songs.
'The Water of Tyne' is my grandad's favourite. My grandma used to sing us to sleep with it. I also learned lots of songs through Irish song evenings my mom used to lead at school. My grandma used to run an adult choir through the church and they often sang war songs. I often had a 'guest spot' with songs such as 'Goodnight Children Everywhere'. All these I picked up along the way and worked into my Live Music Now repertoire.
LMN: Is there any LMN memory that stands out for you?
Anna: There were many strong memories from LMN but there was one in particular. We did a tour in Sheffield. As it was a day care centre, they didn't have big physical needs, but they wanted to share and get to know us much more. It was a very small room – 12 people all around in circle. We were very much part of the circle, it wasn't a very big room. We would sing one song and then chat with them before moving on to another – they really wanted to know about us (they also wanted to know if James and I were an item!). They'd all say, 'Isn't he handsome'…One woman just started crying after one song, and then it all came out; her brother had been a prisoner of war and for two years they thought he'd died, but he'd basically taken 2 years to walk across Europe and there was so much relief when he walked through the door – they danced.
I feel that's how we should be with our audiences in every setting – Wigmore Hall or care home. We are giving something of ourselves. And you can't do something like Live Music Now and just walk in and walk out, you have to give something. What LMN does do is get rid of your ego.
The first time we did 'Just a Song at Twilight' (Love's Old Sweet Song, JL Malloy) was on that Sheffield Tour and I remember I was still learning the words… This concert was in quite a big room – another day centre, everyone was quietly listening but when I started this number I suddenly realised everyone was singing along with me. I think of that every time I sing it at Wigmore Hall.
LMN: Many of the singers who come along to audition indicate they've had quite a tough time with competition within the sector.
Anna: And the rejection. Everyone's rejected at some point. But I think it's also knowing that rejection means you might just need to go away and work on something. Sometimes it's simply the way it's meant to be – if it's a casting thing you might not look right – and you can't do anything about those things. It's building resilience to that – and being quite philosophical – you need to keep believing in yourself. I think we all have that tested – but the more you have that tested and persevere – the stronger you get. Surrounding yourself with people who believe in you is very important. My advice to anyone is to find out what's true to you, what feels natural to you – if you're doing something that's true to you, it will develop, organically.
As I came out of music college the world actually seemed quite friendly and less competitive. There's space for all of us. We can be nice to each other. There are difficult times with arts funding at the moment  – but actually there's an absolute wealth of talent in this country for classical music. We need to band together. Together we can work to encourage audiences to hear more song repertoire. There are many more people doing it in a Live Music Now way – connecting with the audience, making them feel welcome. Maybe I'm being naïve but I feel the more we put out those high standards in a personable way to the general public, the more likely we'll get people in. It is a high art form, but it doesn't mean it's inaccessible.
LMN: What would you tell a young singer interested in joining Live Music Now?
Anna:  Do it with a pianist you really want to work with, and someone you might want to develop a relationship with – it's a great opportunity to do that and try repertoire out. Fundamentally, surely, there has to be something about you wanting to give something back to society. But I think – from a professional point of view – it gives you performance opportunities to try things out vocally. From a personal point of view, the support you get from LMN is invaluable.
Anna Huntley's new album, Schubert Songs for Voice and Guitar, is out on the Quartz label now and available for purchase on Amazon here.
With thanks to Ann Marie Boyle for conducting the interview on behalf of Live Music Now.