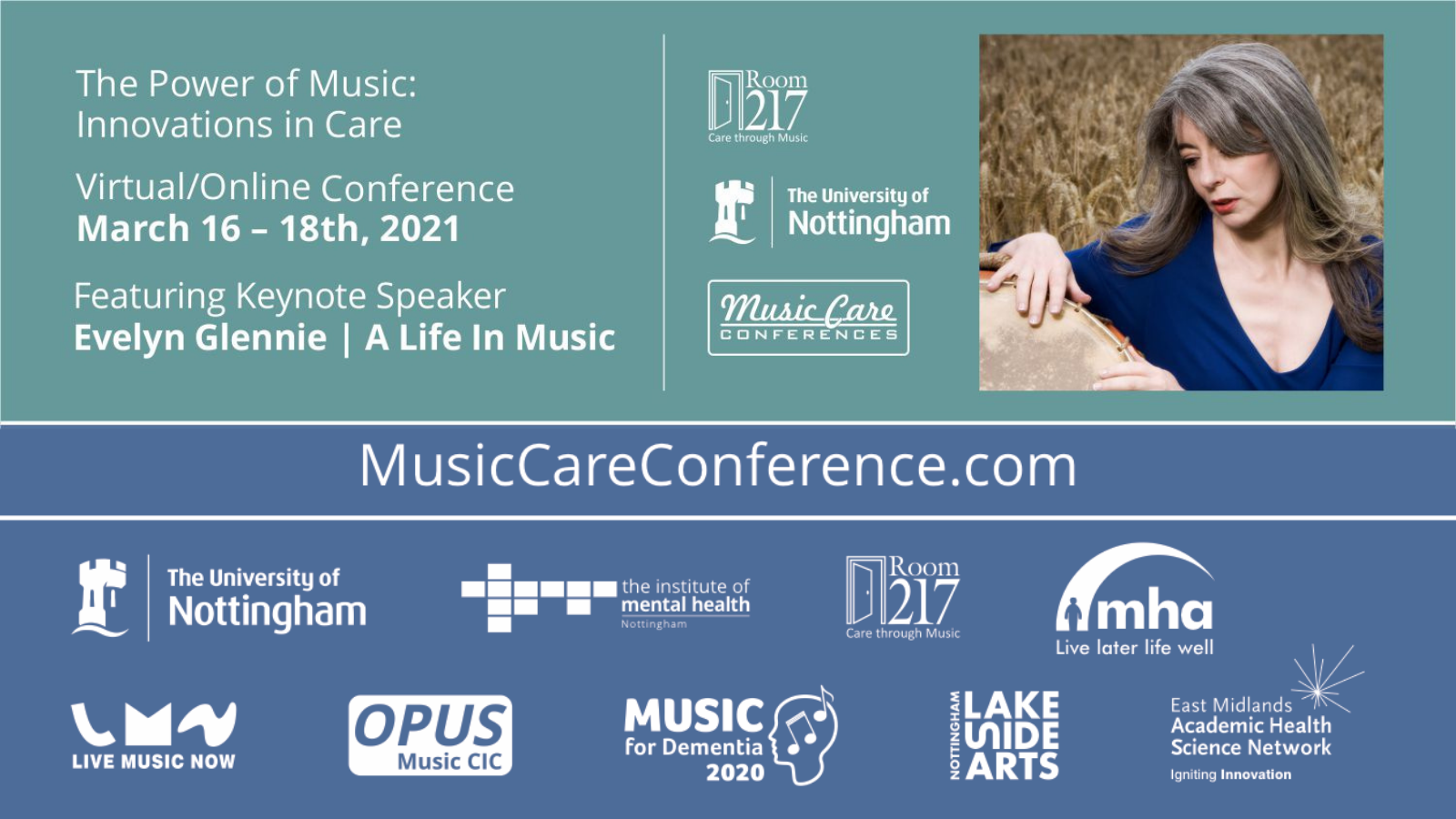 Live Music Now is proud to be presenting and partnering once again with The University of Nottingham's Music Care Conference 2021
The Power of Music in Health and Social Care Conference is moving online, without losing its unique approach, featuring live music, learning opportunities and research. The conference has three main aims:
To showcase innovations, especially those responding to the global pandemic;
To highlight best practice in music care, as underpinned by research evidence; and
To provide a networking opportunity for a growing community of practice.
The conference is for music care providers, social prescribing link workers, social care and care home personnel, music practitioners, activity co-ordinators, commissioners, researchers and anyone whose life is improved by music.
Held over 3 days, the conference will run for 3 hours, starting at 9am EST/ 2pm GMT.
Featuring keynote speaker Dame Evelyn Glennie, internationally-renowned solo percussionist, in conversation with Baroness Lola Young of Hornsey.
Karen Irwin, Live Music Now's Strategic Director for Children and Young People, is contributing a video presentation about music-making with children in challenging circumstances as part of the proceedings on Day 2 (17 March).  She will talk about one of Live Music Now's new online programmes connecting musicians directly with families to promote wellbeing through musical engagement.
Douglas Noble, LMN Strategic Director of Wellbeing is moderating a live panel discussion on the 3rd day of the event on Music in Care Settings.
Opening the conference, the Bliss iband of disabled instrumentalists will be marking its 20th anniversary with a documentary video including some performance.  The closing performance will be by the Breathe Harmony NHS choir, whose response to the pandemic included an international recording of Mariah Carey's 'Anytime You Need a Friend' to show their appreciation for the National Health Service.
For bookings and more information visit: https://www.eventbrite.ca/e/music-care-conference-2021-tickets-137638627841?fbclid=IwAR13l9kTnLfpPCVgNZbXNpc-cm9iUqeyzWnBh8ylbAQbQ5f4QfXv2eFQMp8
Click on the poster images below to download PDF versions.