We Are All Musical: Supporting music education in Wales' special educational school provision
22 – 24 November, 3-5pm, Online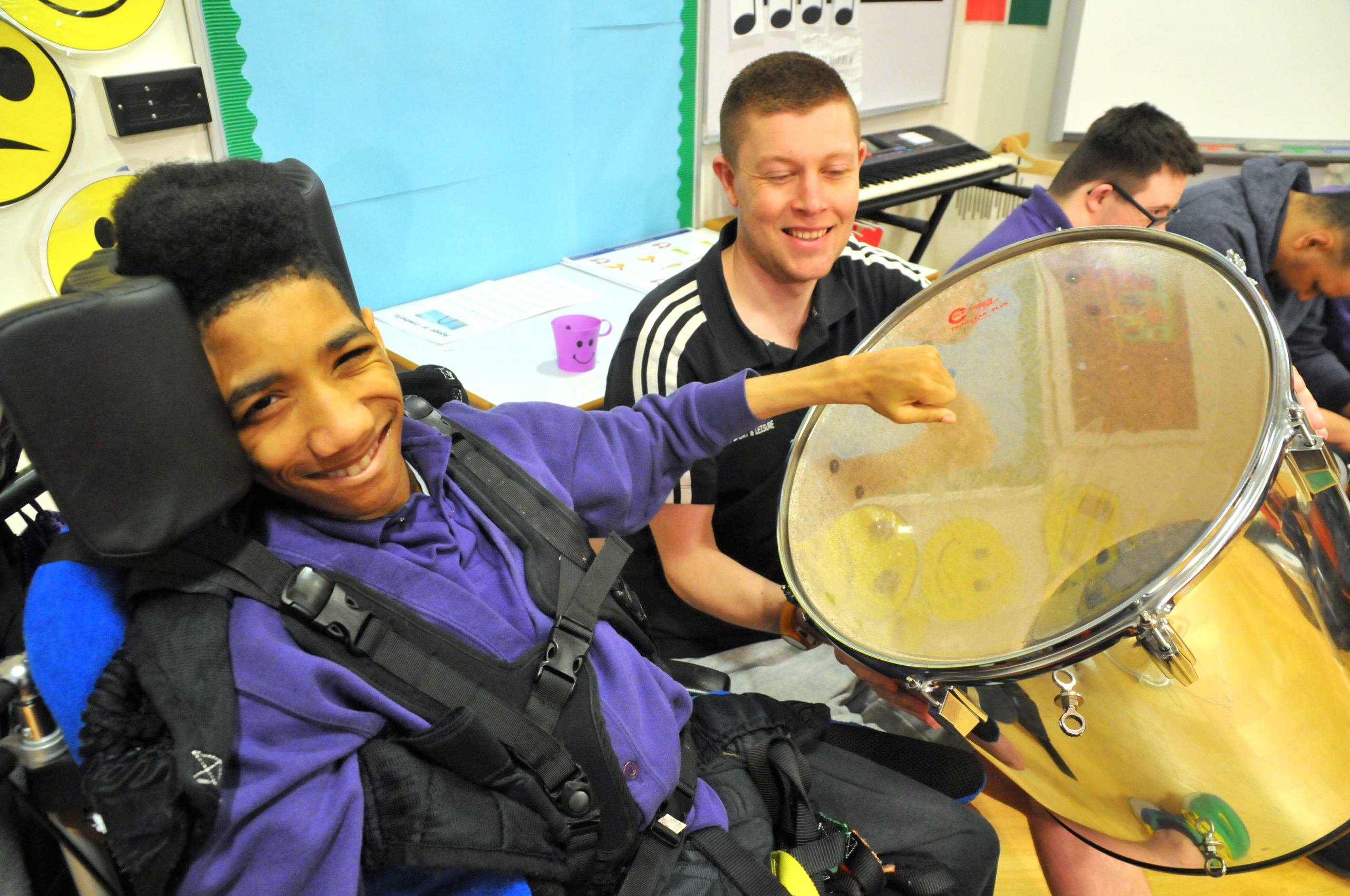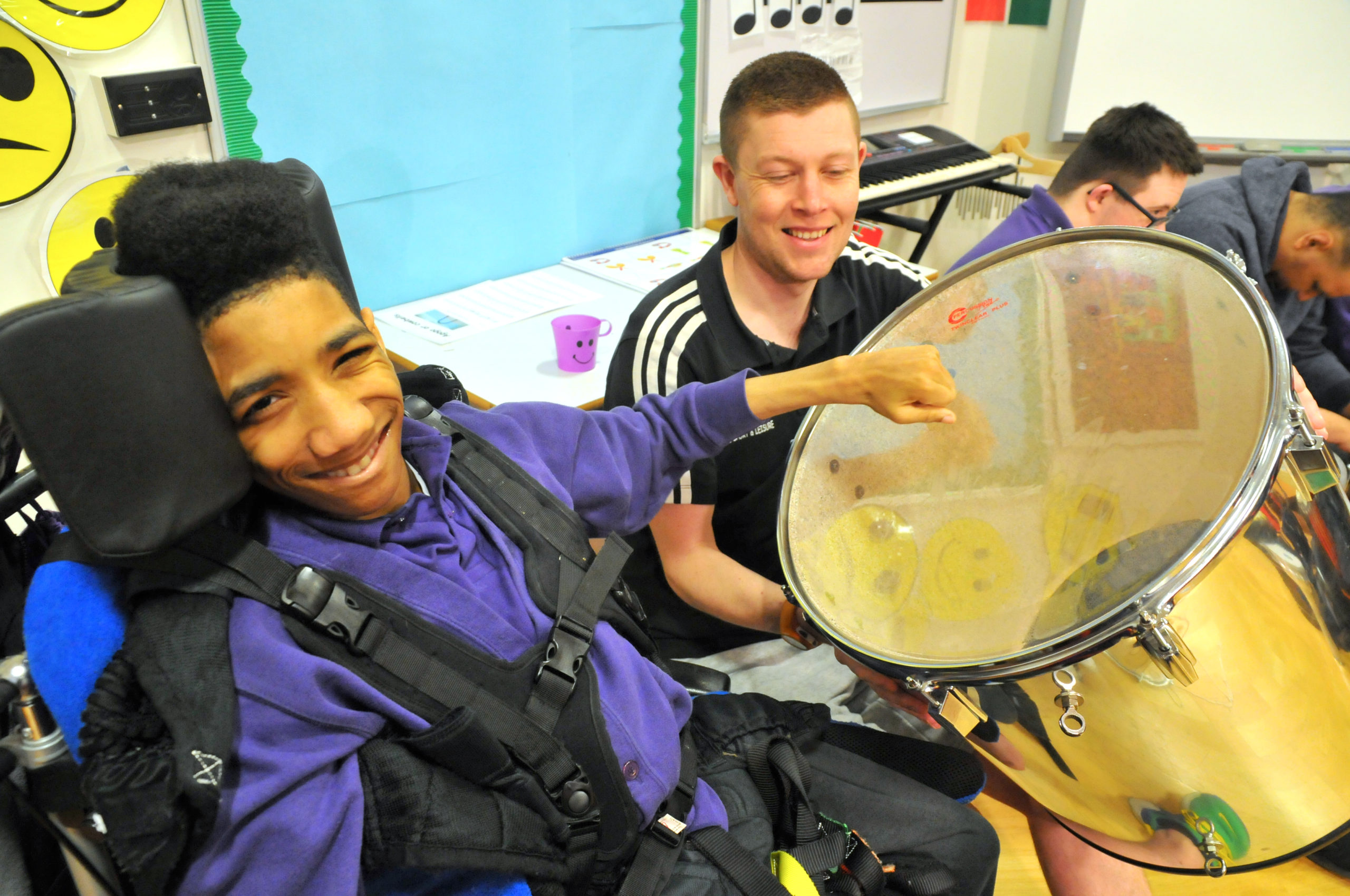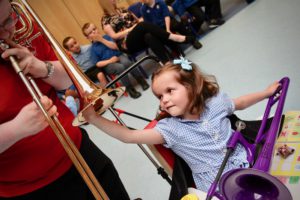 Join us for a free 3-day online conference to:
Explore why it's so important for children and young disabled people with additional learning needs to have access to regular music education
Hear about the findings from a recent survey of music provision within Wales' special educational schools
Learn about strategies to support musical inclusion in the classroom
Discuss what needs to be put in place to improve special educational school music provision
Monday 22 November, 3-5pm

Booking link: bit.ly/Music2211

THEME: Music education as a right for disabled children and young people
KEYNOTE:

"The Power of Music"

Dr Carrie Grant

, MBE

VIDEO SHOWCASE: Music and Me – Family Voices
INTERVIEW with Siobhan Clough, violinist & member of BSO Resound and Paraorchestra
CASE STUDY: Forget-Me-Not Productions, Clary Sadler
PANEL DISCUSSION: Why is it important that disabled children and young people with additional learning needs have access to regular music-making/music education? Panel: Lisa Tregale (BBC National Orchestra of Wales), Siobhan Clough (Violinist), Clary Sadler (Forget-Me-Not Productions), Josie McAllister (Ysgol Y Deri), Joy Lewis (Parent), Alex Rees (UCAN Productions) Chair: Ruth Fabby MBE, DL, Director, Disability Arts Cymru

Tuesday 23 November, 3-5pm

Booking link: bit.ly/Music2311

THEME: Musical Inclusion in the classroom
KEYNOTE: "We are all musical: the Sounds of Intent project, 20 years on", Professor Adam Ockelford (University of Roehampton).
CASE STUDY: Drake Music – strategies for using accessible technology in the classroom to remove barriers to participation in music-making.  Michael Dollan, Associate Musician
PANEL DISCUSSION: The power of music to promote inclusion in the classroom. Panel: Professor Adam Ockelford, Michael Dollan (Drake Music), Dean Yhnell (Live Music Now musician), Rachel George (Ysgol Maes Y Coed, NPT). Chair: Karen Irwin, Live Music Now

Wednesday 24 November, 3-5pm

Booking link: bit.ly/Music2411

Theme: Making Change a Reality: strategic action for inclusive music education provision.
KEYNOTE 1: Jayne Bryant, MS (Newport West) and Chair of Children, Young People and Education Committee, Senedd Cymru
KEYNOTE 2: Andrew Miller MBE, Founder, UK Disability Arts Alliance
VIDEO SHOWCASE: Music Matters – Inspirational School Music Making
PRESENTATION: Summary of findings about current music provision in Wales' special educational school provision.  Professor Graham Welch, Chair of Music Education, Institute of Education, University College London
PANEL DISCUSSION: What do we need to put in place to improve music provision for children and young people in Wales' special educational schools? Panel: Andrew Miller MBE, Emma Archer (Education Department, Welsh Government), Claire Hardy (Head Teacher, Meadowbank School), Gethin Thomas (Music Teacher, Ysgol Y Bont), Phil George (Chair, Arts Council Wales), Rhian Hutchings (Anthem), Chair: Gareth Churchill
Keynote speakers
Dr Carrie Grant MBE is a BAFTA award-winning broadcaster with a TV and music career spanning 40 years. She was awarded an Honorary Doctorate and an MBE in 2020 for her services to Music, Media & Charity. Carrie presents for The One Show and has the biggest selling vocal coaching book in the world. She also moderates Health Conferences throughout the world and has been President of Unite Union for Community Practitioners and Health Visitors. She has four children and is a passionate campaigner about adoption, autism, ADHD, invisible disability and inclusion.
Adam Ockelford is Professor of Music within the School of Education at the University of Roehampton in London. Among his research interests are children and young people with special musical abilities or needs, particularly those on the autism spectrum. He is Founder and Trustee of The Amber Trust, a UK-wide charity that supports blind and partially sighted children in their pursuit of music; founder and chair of Sounds of Intent Charity; secretary and trustee of the Society for Music, Education and Psychology Research ('SEMPRE'); and a trustee of Live Music Now.
Jayne Bryant, MS Born and brought up in Newport, Jayne was elected to the Senedd in 2016 to represent Newport West. She is Chair of the Children, Young People and Education Committee which has been set up by the Senedd to look at policy and legislation, and to hold the Welsh Government to account in specific areas. These areas include children and young people; education; and health, care services, and social care as they relate to children and young people.
Andrew Miller MBE Andrew is a cultural consultant, broadcaster and is one of the UK's most influential champions of disabled people.  He belongs to the first generation of disabled presenters of British television, became an arts & music documentary film-maker and later, the first wheelchair-user to run a major UK arts venue.  Now a prolific writer and public speaker, his consultancy supports major new cultural infrastructure such as the University of Oxford Schwarzman Centre for the Humanities and Coventry City of Culture.
Presenters and Panel Members
Emma Archer, Music Education Plan Manager (Welsh Government), Head of Service for Gwent Music
Emma has a long career in the world of music education in Wales.  Having initially trained as a cellist in the Royal Welsh College of Music and Drama, and Royal Academy, she has devoted 35 years to working for Gwent Music with the last 7 as Head of Service.  As chair of CAGAG (Association for Local Authority Music Services in Wales) and as the Wales Advisor for the Benedetti Foundation, she has been committed to moving forward on the goal to ensuring a more sustainable solution for music education in Wales.  Her current role is a secondment as the Music Eudcation Plan Manager for the Welsh Government.
Dr Gareth Churchill is a composer, member of Paraorchestra and music teacher for Cardiff University Centre for Continuing and Professional Education. He has maintained a private teaching practice for over 25 years.
Siobhan Clough is a Violinist from Torfaen, South Wales. She completed her BMUS Undergraduate Degree at the Royal Academy of Music in 2018, under the tuition of Tomatada Soh. Siobhan performs in lots of different settings from classical orchestral concerts, educational workshops, quartet performances in London Tea Rooms to Festivals. She has had many an exciting project over the last few years including performances at BBC Relaxed Proms with BSO Resound, performance with Stormzy at Wireless Festival and a Christmas Season at The Royal Opera House as part of their inclusive work called The Lost Thing. Recent highlights include a recording session with Paul Weller and a Sky Arts documentary; 'Beethoven And Me' with the Paraorchestra. Siobhan is a recipient of funding from Arts Council Wales.
Claire Cressey is Director of Live Music Now Wales since 2014, where she leads on the delivery of the Inspire programme across Wales' Special Schools provision. With Live Music Now she also created and toured the musical stories 'The King, The Cat and The Fiddle' and 'The Hopeless Pirate' (the latter which she also wrote) to both Special Schools and Primaries across the country. She has over 20 years experience within music and arts outreach including as Community Producer for Welsh National Opera and Assistant Director for Artswork Youth Arts Development Agency where she created the English National Youth Arts Network.
Michael Dollan, Associate Musician and Trainer for Drake Music, has worked as a Community Musician, Project manager and Trainer since 2002, and with Sage Gateshead where he established their Accessible Learning programme between 2005 and 2013, and also with Drake Music in a variety of roles since 2007. Michael is a passionate believer in making music accessible to all, and as a musician himself he makes Alt-Indie using music tech and traditional instruments, often using apps and techniques he uses in his Community Music work.
Ruth Fabby MBE, DL, Director, Disability Arts Cymru, has worked in the arts sector for over 40 years, starting as a performer, writer and physical theatre practitioner. She was part of North West Disability Arts Forum in Liverpool for 23 years, founding the multi-award winning DaDaFest in 2001. In April 2015 she was appointed a Deputy Lieutenant for Merseyside, was made an honorary Canon at Liverpool Cathedral in Oct 2016 and awarded a MBE in 2016 Queens Birthday Honours. In 2018 she was Awarded Fellow status of John Moore's University, Liverpool. In November 2019 she was awarded the Lifetime Achievement Award at the inaugural Culture and Creativity Awards for the Liverpool City Region.  Since November 2019, Ruth has been leading Disability Arts Cymru to support a creative and equal Cymru where disabled and Deaf people are pivotal to the arts of the nation.  Its mission is to open up access and opportunity, celebrate diversity, nurture new talent and established high-calibre disabled/Deaf creative industries practitioners, and inspiring change throughout Cymru.  She was appointed as a member of Arts Council Wales in March 2021.
Rachel George, Ysgol Maes Y Coed, Neath Port Talbot: Senior Leader in Charge of Curriculum, Expressive Arts and Speech and Language at Ysgol Maes y Coed.  Passionate advocate of the transformational power of the arts and arts champion.
Phil George, has been the Arts Council of Wales Chair since April 2016. At his appointment he stepped down from his role as Creative Director of the award-winning production company Green Bay Media which specialised in high-end documentary projects for broadcasters in Wales, the UK networks and internationally. Previously, Phil had been Head of Arts, Music and Features at BBC Wales and was the founding Chair of the groundbreaking National Theatre Wales.  A proud son of the Rhondda Valley, Phil was educated there and at Christ Church Oxford. He has an honorary doctorate from the University of South Wales and is an Honorary Fellow of Cardiff University.
Claire Hardy has been Headteacher of Meadowbank Special School since January 2018. The school supports Primary aged pupils with a wide range of complex learning needs including Autism and Developmental Language Disorder. Her 29 year teaching career has included periods teaching in the primary mainstream sector as well as a freelance Early Years music practitioner within private music settings.  She has been an ALNCO and subsequently ALN advisor for Cardiff Local Authority. Claire has a life-long passion for the Creative Arts and spends much of her spare time singing with the BBC National Chorus of Wales, WNO Community Chorus and Cardiff Polyphonic Choir. She is passionate about the positive impact music can have on the lives of all young people, especially those with ALN who require a Total Communication approach to support their learning.
Rhian Hutchings, joined Anthem Music Fund Wales as their Chief Executive Officer in 2020. She is an opera director, creative producer and connector with a passion for young people and music. Rhian has been active in the participatory music sector in Wales for the last 20 years, founding Operasonic in Newport, leading the Youth & Community team at Welsh National Opera for seven years, and driving the ArtWorks Cymru Partnership to explore sector development.
Karen Irwin, Strategic Director (Children and Young People), Live Music Now. Karen leads the development of Live Music Now's work with children and young people, focused on participation and inclusion. This includes the national flagship programme Inspire which enriches music provision in special educational settings through residencies which embed training for school staff and Live Music Now musicians.  Over 70 schools, 2,500 young people, 1,000 school staff, 150 musicians in England, Wales and Northern Ireland have taken part since 2016.
Joy Lewis, Parent
Josie McAllister, Senior Deputy Head, Ysgol Y Deri, Penarth. Josie has taught in special schools for 24 years and has been involved in the provision of music education throughout this time. She is Senior Deputy Head in Ysgol Y Deri, a large school in the Vale of Glamorgan with 370 pupils aged 3-19 who have a very diverse range of additional learning needs.
Alex Rees, Creative Learning Lead,UCAN Productions. I've been working with UCAN for over 12 years, principally in the arenas of creative music and sound production technology and how it can engage, support and inspire young people who may be visually impaired/SEN/ALN; also more recently I'm leading UCAN's exploration of evolving this kind of work into accredited course delivery and the development of employment skills.
Clary Saddler, Founder and Artistic Director, Forget-Me-Not Productions. As well as being a producer / director / writer / facilitator / tutor with Forget-Me-Not-Productions, Clary's background includes 22 years as a professional actor/musician/singer/songwriter. Clary is passionate about using the arts to bring about social change. Forget-Me-Not-Productions is a reputable, high quality inclusive arts and assistive technology organisation in Wales, operating nationwide since 2002. The organisation specialises in working with people with complex physical and cognitive disabilities, using assistive technologies to make music and the wider arts accessible for all. It has a reputation for developing innovative access solutions within inclusive arts education; enabling learners to express themselves creatively through music and the arts.
Gethin Thomas: Workshop leader, composer, performer and music teacher at Canolfan addysg y Bont, Anglesey.
Lisa Tregale, Director BBC National Orchestra & Chorus of Wales. Lisa is in charge of Wales' only professional symphony orchestra in its dual role as broadcasting and national orchestra.  Formerly the head of Participate at Bournemouth Symphony Orchestra, Lisa is recognised across the music sector as both a champion for the arts and a real innovator in inclusion and music education.
Professor Graham Welch, Chair of Music Education , UCL Institute of Education, University College London. Professor Welch's main areas of expertise lie in musical development and music education across the lifespan, teacher education, the psychology of music, singing and voice science, music and disability, and the wider benefits of music.  He was part of the research team set up in 2002 to develop the Sounds of Intent musical development framework and co-author of the PROMISE reports 2015 and 2001 (Provision of Music in Special Education) based on a national survey of music in special schools in England.
Dean Yhnell, Musician, Live Music Now. After making the leap into professional beatboxing in 2010 Dean's career and repertoire have blossomed. He has forged a unique performance style and stage presence, which were built on the stages and events of Glastonbury, the O2, Royal Ascot and Silverstone to name a few. Dean has become heavily involved in the beatbox battle scene, competing in the UK championships in 2014 before participating in the first ever Welsh Beatbox Championships in 2015 where he lost narrowly to the eventual winner in the semi-final stages. Dean now spends the majority of his time teaching young people in schools and youth organisations the art of beatbox, rap, dj-ing and music production, improving their communication, literacy and confidence levels through his teaching style. He has achieved much success with young people who find school a challenge, enabling them to improve attendance, behaviour and motivation in all areas of the curriculum. Dean has been part of the Live Music Now scheme since 2017.